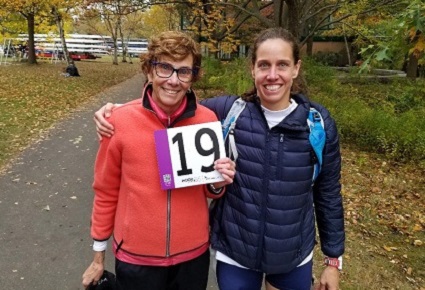 By Elizabeth Folberth 
Oct. 30, 2019: What would you say if your daughter, a former Olympic rower, asked you, her mother (who had never rowed before), to compete with her in the Head of the Charles Regatta?
This happened to Trish Smith (age 71) last June when her daughter, Elizabeth Pratt (age 41), made the proposal. With just four months to prepare for the October race in Cambridge, MA, one of the most prestigious in the country, Smith only hesitated for a moment.
"I thought to myself, 'you know what, this is probably the last time anybody's going to ask me to learn something new, so I said yes! And it turned out to be insanely liberating and fun."
Smith, who has lived in Bronxville with her husband Craig since 1987, was already an excellent athlete, running marathons for the Nike team in the 1980s, but she had never picked up an oar.
Pratt, who graduated from Bronxville High School in 1996, is currently a senior banker in Morgan Stanley's Commercial Real Estate Lending group. She moved back to Bronxville five years ago with her husband Nick and their children, Michael (10) and William (8).
Pratt started rowing at Williams College and was on the U.S. Olympic rowing team that competed in Sydney in 2000. She has also coached the Sarah Lawrence Crew Team and a Masters Team.
"But it's very different when you're coaching third parties as opposed to being in the boat with your mother as a teammate, coach, and daughter," said Pratt.
After they bought a scull secondhand (Smith decided they needed a "fast, sexy, Italian boat"), Smith gave up all her other activities and devoted herself to learning to row. Pratt scheduled workouts for them on the water two or three times a week, and the rest of the time, Smith worked out alone in her basement on an ergonomic rowing machine (called an "erg").
"Mom has an incredibly strong aerobic background, "said Pratt, "so for her, it was a matter of learning the mechanics of the stroke and then gaining confidence and comfort with that. What surprised me is that Mom seems to really enjoy it. It also reminded me that there are elements of rowing that are so special and really fun: being out on the water, seeing the sunrise and seeing the sunset. There really are just wonderful moments."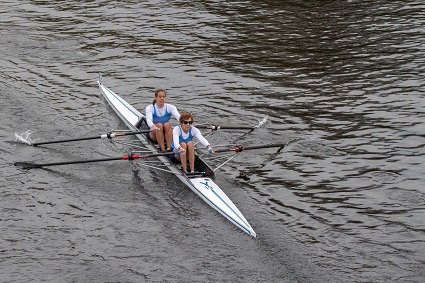 Smith and Pratt on the water in their scull

Along their path to the Head of the Charles, Pratt and Smith came in second in their category (Women's Masters Double) at the CRI Fall Classic Regatta in Boston in September (also on the Charles River in Cambridge, but on a different course). They also won the Women's Masters Doubles at the Head of the Riverfront in Hartford, CT, in October.
But the Head of the Charles (HOC), on the second to last weekend in October, is a completely different experience. In its 55th year, the HOC has become the world's second-largest rowing event, estimated to host over 9,000 rowers, 1,750 boats, 56 races, and up to 300,000 spectators.
"Rowing is not much of an acclaimed sport for most of the year," said Pratt. "So, it's fun to have that one weekend when you have people's attention."
At the HOC, Smith and Pratt rowed in a new category: Parent/Child. Of the 40 boats in their event, the vast majority were father/son (usually a father in his 40s and a son in his 20s). About 5 or 6 were father/daughter teams, but Smith and Pratt were the only mother/daughter pair.
"I looked at the statistics," said Pratt. "We weren't quite the oldest—there were a few other 70-year-olds—but we were the best of the olds."
Pratt and Smith felt lucky to have a beautiful day for rowing, with the temperature in the 60s and calm, flat water. Elizabeth had memorized the entire 3.2-mile serpentine course but still had to keep looking over her shoulder to make sure they didn't run into any other boats or any of the seven bridges. The race started at about 4 p.m., and they finished in 22 minutes, coming in 21st out of 40.
"That time would have made us second in the women's masters pairs," said Smith. "It's hard to beat testosterone. For me, the best part was after the race as we were rowing back to the dock. The support from all the college women standing on the shore was amazing. These women, who could be my granddaughters, were cheering us. It was deeply moving and a culmination of what we started for women in the 1960s."
Are Pratt and Smith going to keep rowing? Yes indeed. "I have a calendar, I have a training plan; we have things to do, places to go," said Pratt. "For the winter, we're going to try to take on the world record for the 2K in Mom's age group." This "regatta," is an indoor rowing race in Boston in March. Competitors try to outdo each other's speed by rowing on an erg.
Does Smith have a chance to beat the world record? "It's a stretch," said Pratt, "it's a goal. We have the battle of attrition on our side. There are not that many people erging at 70."
Smith had the final word: "If Elizabeth believes in you, you believe in yourself."

Pictured:  Trish Smith and Elizabeth Pratt
Photos courtesy Smith and Pratt families
Editor's note: As a public service, MyhometownBronxville publishes articles from local institutions, officeholders, and individuals. MyhometownBronxville does not fact-check statements therein, and any opinions expressed do not necessarily reflect the thinking of its staff.