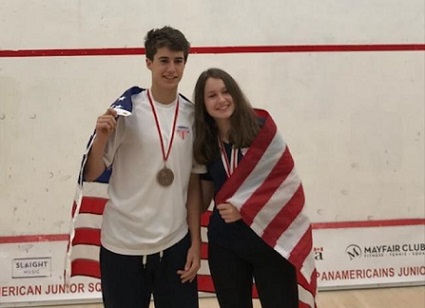 By Staff
Jun. 26, 2019:  Last week, eight of the top-ranked junior squash players in the country traveled to Toronto to represent Team USA at the 2019 Pan American Junior Squash Championships. The top-ranked players on Team USA included Conner and Molly Stoltz, the number-one and number-two ranked under-17 squash players in the United States.
There were twelve countries represented in the tournament, including Argentina, Barbados, Bermuda, Canada, Colombia, Ecuador, El Salvador, Grand Cayman, Guatemala, Mexico, Peru, and the United States. The tournament included individual and doubles competitions as well as a team competition.
Molly Stoltz and her doubles partner, Nina Mital from Harrison, NY, claimed the silver medal in doubles. They defeated Guatemala and Argentina on their way to the finals. They lost the finals match to Team Columbia by one point in a sudden-death 11-10 score in the final game. 
Team USA also had a strong showing in both the boys' and girls' team events, taking two bronze medals. In the girls' team event, Molly Stoltz won over the number-one ranked Canadian under-17 girl in the semifinals team match. 
Pictured here: Conner and Molly Stoltz draped in the American flag and their medals from the championships.
Photo courtesy Stoltz family