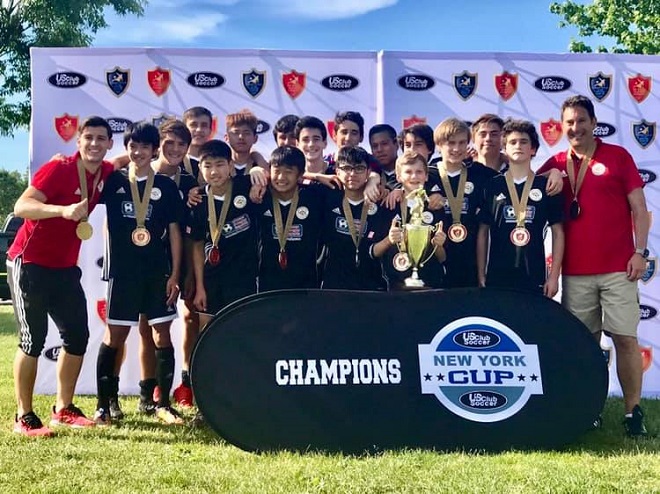 By Karin Drakenberg, Parent
Jun. 12, 2019:  The EYSA U15 team Jaguars, boys born in 2004, had an impressive victory over Manhattan Clash 1-0 in the finals of the New York State Cup 2019. The final matches were held at HBC Soccer Complex in Melville, Long Island, on June 9, and many parents, siblings, relatives, and friends came all the way to cheer on the team. 
The game was a real nail-biter. An early goal was scored off a corner kick by Rintaro Miyawaki (#23) and was beautifully headed into the net by Lucas McLaughlin (#7). The Jags played their hearts out and held their own for the rest of the game. A very excited and happy team accepted their medals and the NYS cup that will do the rounds with each of the players for 24 hours.
The Jaguars have seven players from The Bronxville School - 9th-grader Mylo Chow and 8th-graders Albert Van Ness, Ellis Goodson, Mark Pytosh, Finn Sands, Joey Gallo, and Wilder Burgin.

Photo courtesy Karin Drakenberg

Editor's note: As a public service, MyhometownBronxville publishes articles from local institutions, officeholders, and individuals. MyhometownBronxville does not fact-check statements therein, and any opinions expressed therein do not necessarily reflect the thinking of its staff.