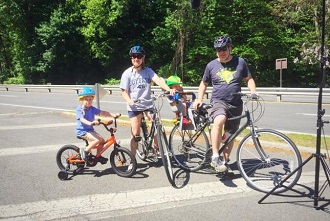 By Josefa Paganuzzi, Thompson & Bender, for Westchester Parks Foundation
May 1, 2019:  Westchester Parks Foundation and Westchester County Parks announced the dates for its 45th Annual Bicycle Sundays 2019 season. The program kicks off on May 5 and continues on Sundays in May, June, and September, except Memorial Day and Labor Day weekends. During this annual event, bicyclists, skaters, joggers, and walkers take over 6.5 miles of the Bronx River Parkway. The program is supported fully through generous donations from Con Edison and NewYork-Presbyterian Lawrence Hospital, along with the official bike shop sponsor Danny's Cycles.
Westchester County Executive George Latimer said: "Bicycle Sundays has become part of the fabric of Westchester County over the last four and a half decades. Times change, fads come and go, technology marches ahead, but there is just something timeless about enjoying a jaunt out on our beautiful Bronx River Parkway. I am grateful for the generosity of our partners who make this one-of-a-kind program possible."
Joanne Fernandez, chairperson of Westchester Parks Foundation, said: "Bicycle Sundays is one of the most iconic events in Westchester and we are thrilled to be able to offer this event for free to all residents. It not only promotes healthy lifestyles but also the importance of environmental preservation for generations to come. We are grateful to Con Edison and NewYork-Presbyterian Lawrence Hospital for their generous support and commitment to parks and open space."
Bicycle Sundays runs through ten municipalities and five legislative districts that include White Plains, Hartsdale, Greenburgh, Scarsdale, Eastchester, Tuckahoe, and Yonkers. The course runs from the Westchester County Center in White Plains south to Scarsdale Road in Yonkers, a roundtrip of 13.1 miles. There are many points of entry and exit along the way. The event is free to the public. Parking is available at the Westchester County Center lot in White Plains for a fee of $15.
Residents and visitors can enjoy Bicycle Sundays this year on the following dates between 10:09 am and 2:00 pm:
May 5, 12, 19

June 2, 9, 16, 23, 30

Sept 8, 15, 22, 29
NewYork-Presbyterian Lawrence Hospital will host a special celebration on Sunday, May 19, from 10:00 am to 2:00 pm at the rest stop between Harney Road and Leewood Drive (Exits 10 and 9) on the northbound lane of the Bronx River Parkway.
Bicycle Sundays has been a beloved Westchester tradition since 1974. Since 2012, this program has been funded solely by Westchester Parks Foundation and its partners. No public funding goes toward keeping this program going. Each year, more than 60,000 thousand cyclists, joggers, and others come out to enjoy the curves and wooded scenery that make the nation's first parkway a national historic landmark. The path winds alongside the wooded Bronx River Reservation.
For more information, go to https://www.thewpf.org/programs/bicycle-sundays/
Photo courtesy Westchester Parks Foundation 
Editor's note: As a public service, MyhometownBronxville publishes articles from local institutions, officeholders, and individuals. MyhometownBronxville does not fact-check statements therein, and any opinions expressed therein do not necessarily reflect the thinking of its staff.