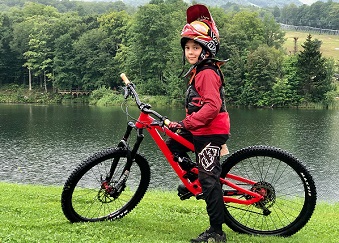 By Guest Contributor

Nov. 7, 2018:  Two weekends ago, at Mount Snow in Vermont, Bronxville Elementary School fifth-grader Logan Arthurs became the overall champion in the Under 12 Class of the Maxxis Eastern States Cup downhill mountain biking series.
Logan is a pint-sized powerhouse on two wheels. He loves mountain biking, rushing through the forest on narrow trails, and launching himself off rocky drops. Specifically, Logan enjoys downhill mountain biking, a discipline much like skiing, where a chairlift is taken to the top of the mountain and then descends to designated trails. At these bike parks, the trails are graded similarly to ski runs, with green, blue, and black diamond levels of difficulty. The trails weave in and about the trees, over rough rocks, and down chutes. Hand-built features are incorporated into the trail network and include sculpted jumps, berms, and bridges. Bike parks are relatively new to the sport of mountain biking but are now proliferating in the Northeast as resorts like Killington look to profit from the summer season. Logan's home bike park is Mountain Creek in Vernon, New Jersey.
Logan has been riding a bike since he was three years old and has been downhill biking since he was seven. After winning the first race he ever entered, which was last year, a fire was lit. He made a conscious decision this spring to concentrate on racing and participate in the Maxxis Eastern States Cup Series. This year, the ESC introduced a new Under 12 Clif Kids Class to encourage young mountain bikers, or groms, as they are endearingly called, to the sport. The series started in May and finished in October and was to visit eight unique locations in the Northeast (because of lift maintenance at Killington, racers rode Thunder Mountain in Massachusetts twice this year).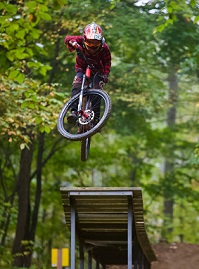 Each race weekend, Saturday is a practice day and Sunday is a race day. The groms race the same course as the pros, a double black diamond trail with each bike park offering up its own flavor. The race courses are extremely intense, with jagged rocks, drops, and slick roots.
In mountain bike racing, there is no such thing as a weather cancellation, so racers must deal with whatever Mother Nature throws at them. This past summer was very wet. Only two of the eight races had a dry course. The other six races had variations of wet. At Windham Mountain in August, torrential rains drained from the skies all practice day and throughout the night, turning the already treacherous former UCI World Cup race course into the steepest, nastiest mudslide imaginable. At Sugarbush in Vermont and Thunder Mountain, the inevitable weekend rains rendered the courses incredibly slippery. The roots that snaked across the trail were so slick, it was as if they were covered in Vaseline. Through all these obstacles, Logan persevered, standing on the podium for each and every one of the races, usually as the youngest rider.
While the weather this season may have been rough, everyone was in it together. The sense of community among this wild mountain biking tribe is strong. Every race weekend, Logan couldn't wait to head out and join his friends on the mountain. This year, he forged lifelong friendships with kids from Maine to Maryland.
When he's not racing, Logan can be found zipping around Bronxville working on new skills or riding the trails at Sprain Ridge and Graham Hills. During this time, he also enjoys making short video edits of his riding that he posts on his website and his YouTube channel. 
Photos by Rob Arthurs and Andrew Santoro
Editor's note: As a public service, MyhometownBronxville publishes articles from local institutions, officeholders, and individuals. MyhometownBronxville does not fact-check statements therein, and any opinions expressed therein do not necessarily reflect the thinking of its staff.