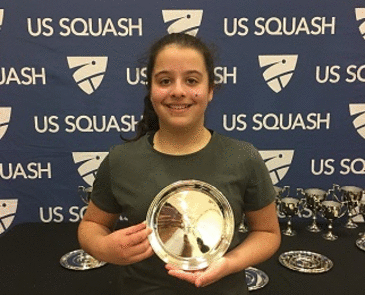 By Staff
Apr. 25, 2018:  This past weekend, seven talented squash players from Bronxville traveled to Baltimore to participate in the U.S. Squash Junior Silver Championships. 
The players from Bronxville who qualified for Silver Nationals were Brooks Clifford, James Murphy, and Thomas Sheumack (Boys Under 13), Claudia El-Masry and Gabriella El-Masry (Girls Under 13), Pippa Fraser (Girls Under 17), and Justin Barr (Boys Under 17).
It was a great weekend of squash for the Bronxville players, with particularly outstanding results for Claudia El-Masry, Thomas Sheumack, and Pippa Fraser. El-Masry upset the fourth seed in the first round of the tournament and advanced all the way to the semifinals before falling to the first seed, Charlotte Jones, from Rydal, Pennsylvania. El-Masry then won the 3/4 playoff, finishing third. Sheumack finished fourth in the Boys Under 13 division defeating the fourth seed, Ethan Lee, from Villanova, Pennsylvania, in the quarterfinals before falling to the first seed in the semifinals and ultimately finishing 4th. Fraser had a great tournament, winning the Classic Plate and finishing fifth overall. Fraser was also awarded the Williams T. Ketcham Jr. Most Improved – Honorable Mention Award for the Girls Under 17, which is a truly impressive accomplishment.  Justin Barr finished in the Top 16 of the Boys Under 17 and had some great matches.  Brooks Clifford, James Murphy, and Gabriella El-Masry finished in the Top 24 of the Boys Under 13 and Girls Under 13, respectively, and played some hard-fought and close matches, including some that went to five games.
All in all, Bronxville once again showed its prowess in the junior squash world.
Pictured here:  Some of the Bronxville players who participated in the Silver Squash Nationals.
Photos contributed by parents and coaches
Editor's note:  The children of a staff member of MyhometownBronxville participate in the squash program.