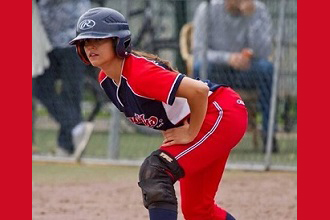 By Ruth Walter

Mar. 21, 2018:  Kehli Washington plays for the Haarlem Sparks softball team from April through October every year while competing in summer tournaments with the Swedish National team. November to March finds her at Dobbs & Bishop Fine Cheese for the holiday rush. After three years, Kehli knows a ton about cheese and how to work the holiday crowds, leaving each customer happier than when he/she came in.
Kehli was born in Sweden, grew up in New Rochelle, and attended New Rochelle High School and Rider University. When she was 5 or 6, she played T-ball and only switched to softball at age 12. A coach saw her play and encouraged her to try out for a tournament team under the coaching of Dean Marino. Kehli's career was born.
Every weekday morning, Kehli can be found making mac-n-cheese at Dobbs & Bishop for middle and high school students. In the afternoons, she trains or does private coaching at A-Game Sports in New Rochelle. On the weekends, she is a sports product promoter, including athletic-ware.
"Since we first met Kehli, her enthusiasm, attention to detail, and crushing work ethic impressed us and secured her a spot on our first string," said Ruth Walter, co-owner of the cheese shop.
Kehli's team, The Haarlem Sparks, had a successful season in 2016, winning a gold medal at the Holland Series and European Cup championship.
"I enjoy playing so much," Kehli said. "In addition to being with all my friends, I love competing and being paid to play a sport I love."
Aspiring athletes and cheese lovers can stop by weekday mornings to talk to a real sports professional. You can also follow Kehli and her team at http://sparkshaarlem.nl/. If you want an inside look into her life, follow Kehli on instagram @kehliwash, where she posts frequently what she does on a daily basis.
Photo by Susanne Washington