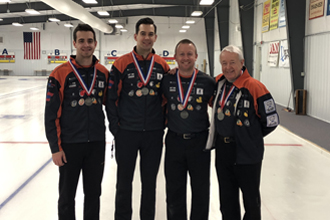 By George Austin, Bronxville resident and avid curler

Feb. 21, 2018:  I just returned from ten days in Brainerd, MN, for the 2018 United States Curling Association (USCA) Men's and Women's Club National Championships
My team, representing New York out of the Ardsley Curling Club at the championships, went for 7 and 2 in the 10-team round-robin competition, the same curling format as the Olympics, gaining the playoff round, i.e., final four games.
The team defeated Texas (Dallas/Ft. Worth Curling Club) in the semifinal match and then earned the silver medal, losing to Washington (Granite Curling Club from Seattle) in a tight, hard-fought championship match.
The team included Andrew Stopera from Briarcliff Manor, a junior at Northwestern University and current USCA Junior National Champion at skip; Martin Sather (Dobbs Ferry) at vice-skip; son Peter Austin (Rockville Centre) at second; and me (George Austin, Bronxville) at lead.
This is the third time in the past four years that this rink from Ardsley CC has medaled in the USCA Club National Championships:  a bronze medal in 2015 in Fargo, ND; a gold medal in 2016 in Bismarck, ND; and now a silver medal in 2018 in Brainerd, MN.

Pictured here:  Ardsley Curling Club team with George Austin on the far right. 
Photo courtesy George Austin