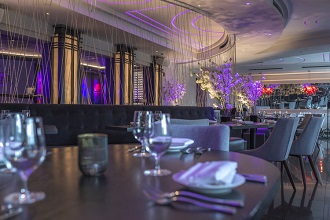 By Karen Talbot

Dec. 5, 2018:  An exciting new restaurant with New York coolness and vibe has opened in Eastchester on the grounds of the Lake Isle Country Club.   
Gigante is very modern and attractive, with lots of black and white décor and purple lighting. The lighting really stands on its own. The ceiling has purple, green, and blue swirls that dim and brighten along with stunning red Chihuly-like chandeliers strategically placed throughout. Other accents are silver beads crisscrossed in one area of the dining room, which serve as a divider for one seating section. The trio of owners, Lou Gigante Sr., Lou Gigante Jr., and Gimmy Cavagna have made this restaurant an outstanding Art Deco masterpiece.
I have to mention the over-the-top, one-of-a-kind bar, which is made of translucent onyx quartz, which allows the light under it to illuminate the natural color of the material. It's unique. Go for a drink even if you can't stay for dinner.
You may think that the décor rules here, but the food, under the guidance of the executive chef, Samuel Kim, and his culinary mastery bring you Italian-influenced American farm-to-table cuisine. 
Our dinner started with delicious Italian bread accompanied by first-rate olive oil, laced with Parmigiano Reggiano cheese. We opted for the Hudson Valley Restaurant Week Menu, three courses for $32.95 per person.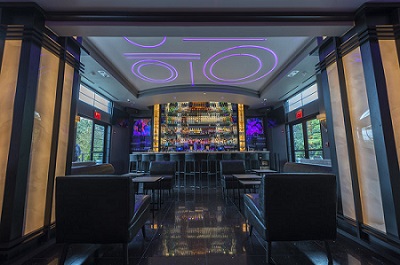 Our outstanding starters were burrata in smoked tomato relish and micro basil; Gigante meatball, which was nicely sized with Parmigiano Reggiano, ricotta, and marinara sauce; and charred gem Caesar salad, with lemon anchovy vinaigrette and garlic croutons.
For mains we had roast chicken, which was organic French cut and served with Brussels sprouts, applewood smoked bacon, and Dijon mustard; beef short ribs with spaetzle spinach, roasted butternut squash, and chili-honey onion jam; and Faroe Island salmon with apple purée, fennel, charred cucumber salad, and black quinoa. Once again, all three were a work of art and taste.
Our third course was dessert, and all three choices were all yummy: warm chocolate cake with poached pear and pistachio ice cream; hazelnut panna cotta with strawberries and cookie crunch; and assorted baked cookies, the most noteworthy of which was the pignoli cookie flavored with almond.
Our wines by the glass were all enjoyable:  Chardonnay, Bayten, 2016 (Constantia); Malbec, Achaval-Ferrer, 2016 (Mendoza); and Cabernet Sauvignon, Merf, 2015 (Washington State). 
Service was very efficient under Joe Alfano, and the waiters were very polished-looking in gray shirts, black pants, and black suspenders. Our server, David, could not have been nicer.
Chef Sam is offering the following items on the Gigante menu for the holidays: brûlée fig salad, chestnut pappardelle, white truffle pizza, and spiced roasted duck breast.
Lou Gigante Sr. created the award-winning Mulino's of Westchester in White Plains more than thirty years ago, and the three owners launched Mulino's at Lake Isle three years ago for event catering.
Hours are Tuesday to Thursday, 5:00 to 10:00 pm; Friday and Saturday, 5:00 pm to midnight; and Sunday, brunch, 11:00 am to 3:00 pm, and dinner, 4:00 to 9:00 pm. 
Photos courtesy Gigante