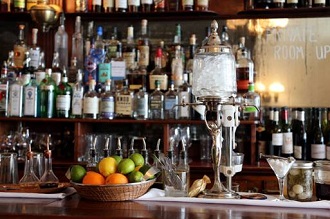 By Karen Talbot

Nov. 14, 2018:  Fine French bistro food and dining ambiance can be found at Saint George Bistro in Hastings-on-Hudson. Saint George Bistro has been open for five years now, turning out noteworthy food at a historic location. One of the attractions of this restaurant is the Tuesday, Wednesday, and Thursday "weekday prix fixe," when two courses including hors-d'oeuvres and plats principaux are offered for $25. 
The space is much like the former Buffet de la Gare, which occupied the space prior to Saint George Bistro.  The space is a classic bistro setting with seating at the bar for ten and front and back main dining areas. Black and white lacquered walls, a white painted tin ceiling, wood floors, and wood- or marble-topped tables highlight the decor. There is a private dining room on the second floor that can seat up to forty guests.
As a start, we were served warm French bread to enjoy with butter and sweet cornichons. The hors-d'oeuvres included well-prepared and garlicky escargots à la bourguignonne and a special salad composed of mesclun, oranges, goat cheese, beets, and nuts that was quite good. A duck and pistachio terrine was also served, but it was dry and lacked flavor.
From plats principaux, we chose three winners: the coq au vin was world-class and served in a luscious dark sauce with onions, mushrooms, and lardons along with buttered noodles. The sauce had a smoky flavor and the chicken was so moist it was ready to fall off the bone. The gnocchi Parisienne came with wild mushrooms, parmesan, and herbs. Our third choice was the rainbow trout Grenobloise, a nice-sized serving with the skin on and filleted perfectly, topped with spinach, lemon, capers, and croutons. Executive chef and owner Chris Vergara executes well, and we were in good hands with Jason Steinberg, the other owner and wine expert.
Our wines by the glass were a Côtes du Rhône and a Blaye Côtes de Bordeaux from the red wine category and a Saint-Véran, a chardonnay. You should try dessert here at Saint George, as both the crème brûlée and profiteroles were excellent. 
Other dinner perks featured are weeknight happy hour from 5:00 to 7:00 pm, a Sunday family-style dinner for $29, and a $15 bottomless mimosa and bloody mary brunch. You can bring your own bottle of wine on Thursday nights, as there is no corkage fee. Dinner is served from 5:00 to 10:00 pm Tuesday through Thursday and Sunday and from 5:00 to 11:00 pm on Friday and Saturday; brunch is served from 11:00 am to 3:00 pm on Saturday and Sunday; the restaurant is closed on Monday.
Chris Vergara also owns Meritage in Scarsdale and Harper's in Dobbs Ferry. Saint George Bistro is at 155 Southside Avenue, Hastings-on-Hudson, 914-478-1671, http://saintgeorgebistro.com/. 
Photo courtesy Saint George Bistro