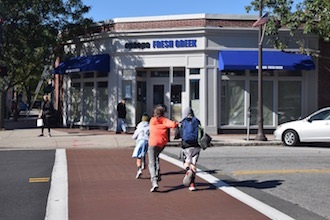 By Susan Miele

Oct. 24, 2018:  Though modestly sized, Bronxville's business district has long had a reputation as a dining hot spot, bookended by Sammy's Downtown Bistro and Rosie's Italian Bistro. Because of developments over the past few years, this landscape has been evolving. With some recent closures (Sammy's among them) and an expanding number of restaurants permissible, the new food scene will test a different model for the downtown business in Bronxville.
Key developments at village hall have made the increased number of food establishments legally possible. A storefront that is zoned for retail use cannot convert to a food establishment without the owner's obtaining a variance from the village zoning board—historically, a complex and expensive undertaking that might result in a denied application. This onus gave Bronxville a reputation for being difficult to penetrate, leading prospective business owners to seek out communities where short-term success was a surer thing.
Over the past five years, village officials have taken a hard look at these requirements, as some (such as a parking study required of the applicant) were deemed to be unhelpful (parking studies historically tended to confirm a well-known subpar parking: business ratio). Earlier this year, the parking study was scratched from the requirements, making doing business in Bronxville more attractive. Moreover, the opening of the Kensington lot alleviated some of the parking challenges previously feared.
"Fortunately, the village recognized that the zoning code—which was created about 60 years ago—was antiquated," explained Jonathan Gordon of Admiral Real Estate Services. Business districts need to be more "Internet-proof," Gordon explained, to cater to needs that can be fulfilled only locally. Food and fitness instruction are chief examples.
Since 2013, several variances were granted that allowed dining establishments to occupy a storefront previously zoned for retail or services, starting with Ernie's Wine Bar + EATS (previously the home of East India Designs, a.k.a., the Silk Road) and followed by Bronxville Diner (previously a retail establishment, Urban Cottage Design) and Ladle of Love (in the former location of The Cobbler Shop).
Over the past year, variances were granted to Root Vine & Juice Bar on Cedar Street (previously occupied by Stipo Opticians), Playa Bowls Bronxville (formerly Candy Land), Opa (a Greek restaurant soon opening where Savanna at Home previously leased on Pondfield Road), and Booskerdoo Coffee and Baking Co (taking over the space previously occupied by Decora and, before that, Village Vacuum Repair on Kraft Avenue). Additionally, the former home of Citrine jewelry has been taken over by Pete's Park Place Tavern, with intended use as a rentable event space.
Additionally, the space previously occupied by Stillmeadow Gourmet will soon be home to The Taco Project, which has another location in Tarrytown, and the former site of Kraft Bistro will serve as the second location of Tredici North, though neither required a variance. The new arrivals not only are expanding the village's food scene but also serve to fill empty storefronts. But this comes with implications, the impact of which remains to be seen over the long term. For one, more food means more need for waste collection, explained Mayor Mary Marvin, as food purchases generally generate more garbage than do retail purchases. Restaurants also use more water and grease.
And, although Bronxville's new food scene will offer diverse cuisines—from acai bowls to souvlaki and tacos—there's a risk of having more food establishments than the market will bear. "It's sort of retail Darwinism," Gordon noted. "But the idea is to build supply to increase demand, which should result in more foot traffic in the downtown, attracting more interesting businesses to open in Bronxville."
In addition to Bronxville School students walking into town for lunch, hospital workers seeking a quick bite, college students on a budget, and business from residents and other employees, Gordon banks on the food scene to serve as a magnet for visitors from other communities. While a restaurant might be the initial draw, the discovery of a thriving downtown is expected to charm visitors into a longer stay and repeat visits to patronize other businesses.
"People are trying to build Bronxvilles in other communities," Mayor Marvin stated, referencing Bronxville as a model business district for its walkability and the predominance of mom-and-pop businesses. For a time, she noted, the public's interest in boutique business seemed to wane. "We've come full circle."
Photo by A. Warner