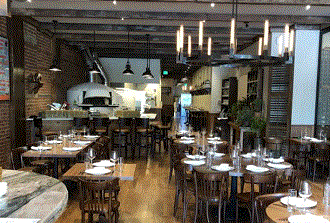 By Karen Talbot

Oct. 10, 2018:  It's all about the food at Rafele Rye, where the chef/owner, Raffaele Ronca, creates "classic Italian dishes with his native Neapolitan influence." He works closely with local vendors, purveyors, and farmers to turn out the highest-quality rustic Italian recipes.
Our culinary adventure started with a basket of focaccia and other Italian bread served with a robust eggplant caponata, followed by an absolutely delicious creative insalate, the cavolfiore, consisting of roasted cauliflower, black currants, caramelized onion, pine nuts, and breadcrumbs served warm.
We had to try the pizza Rafele, not your average pizza but rather a wonderful concoction of prosciutto di Parma, buffalo mozzarella, arugula, and grana Padano. The restaurant has two indoor pizza ovens. The pizza's unique crust (made with flour and water, no eggs) is crispy on the outside and oblong in shape; all pizzas are served on a wooden-handled plank.
From the antipasti selections, I highly recommend the polpettine, pan-seared veal and beef meatballs in a light tomato sauce--yummy and crispy on the outside and done just right on the inside. From the house-made pasta menu, we enjoyed the special that evening, which was cannelloni bolognese, another taste sensation in a special tomato sauce.
Chef Ronca is known for his award-winning signature dessert, torta di ricotta, a light, fluffy, and delicious cheesecake served with raspberry sauce. Another dessert to order is the panna cotta, Piemontese style with caramel sauce. We enjoyed glasses of Montepulciano, the perfect accompaniment to our meal.  
Rafele is bustling and lively but not overly noisy as some restaurants can be at peak dining hours. Brick walls, a wood-beamed ceiling, and tables made of interesting composite wood, plus a very large chandelier filled with liquid light and a similar fixture over the marble-topped bar, make for a homey but sophisticated atmosphere. The restaurant is quite large but not overwhelming, with the main dining room featuring a huge open wine cellar, high-top tables opposite the open kitchen, and a few seats by the pizza ovens. There is also a private dining room by the kitchen that can accommodate 30 people.
The service was excellent, and the manager, Christian Savaglia, is only too happy to help you decide which menu items to order. Rafele is a new restaurant and a must-go-to destination, and I can't wait to go back. It is at 26 Purchase Street in Rye and is open daily for lunch, brunch, and dinner from noon to 11:00 pm. There is a sister restaurant in the West Village in New York City.
Rafele Rye
26 Purchase Street
Rye, NY 10580
914-481-8417
www.rafele.com/rafele-rye
Lunch, brunch, and dinner
Sun.–Sat., Noon–11:00 pm
Photo courtesy Christian Savaglia, manager, Rafele Rye