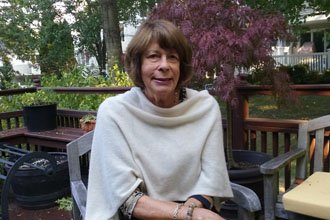 By Karen Talbot

Sep. 12, 2018: The Twisted Oak, in a historically famous building in downtown Tarrytown, focuses on Italian-influenced New American cuisine created by Michael Cutney, the chef/owner. The menu changes daily, sourcing from local Hudson Valley farmers, where sustainable agriculture is a principal theme.
Our dinner started with the most wonderful bread creation consisting of ricotta, egg, parmesan, and nutmeg. The pasta dishes from the "To Start" menu that we tried included John Fazio duck lasagna, a delicious combination of duck with braised wild greens and béchamel sauce topped with a poached hen egg. Next came a risotto that featured hen of the woods mushrooms, asparagus, mascarpone, and Parmigiano, and then we tried pappardelle in a milk-braised pork ragu, sage, and ricotta salata.
The "Starter" portions were more than adequate in size, but keep in mind that entrée portions are priced at an additional $10, which would have made the pappardelle, for instance, $32 instead of the $22 list price. Pricing quirks notwithstanding, these were excellent choices and truly original dishes.
Next came what is referred to on the menu as "To Follow." We chose country fried Fazio chicken, which was soaked in creamy Catskill polenta with braised greens and gravy. This entrée was so different, served almost like a soup with different textures of crispy chicken in the creamy sauce, a first-rate taste sensation in my view.
We did not hold back on dessert: strawberry shortcake with Mead Orchard strawberries, Angostura sorbet and crème fraîche mousse served deconstructed on the plate. This was followed by white chocolate soup, a delicious concoction of gianduia semifreddo, cocoa nib, and almond, and lastly, the "pièce de résistance," lemon meringue pie with little dollops of the meringue and lemon curd cascading opposite each other on an oblong plate.
Almost five years ago, Wood Join Co., Inc., and artist Rick Parenti assisted in the refurbishment of the dining rooms with lots of historic wood and stone accents meant to reflect the restaurant's Twisted Oak theme. The only drawback was that both the main and rear dining rooms can be noisy, so you may want to specify a quiet corner table in the front or dine before 7:00 pm or after 8:30 pm. Our server was Mikala, an adorable young lady who took great care of us.
In the category of wine by the glass, four whites and reds are offered from $10 to $15 per glass.
The Twisted Oak
61 Main Street
Tarrytown, NY 10591
914-332-1992
CLOAKING
www.thetwistedoakny.com
Pictured here: Karen Talbot.