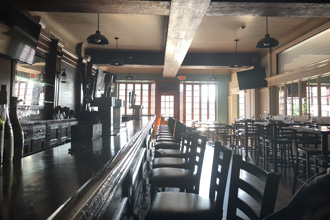 By Karen Talbot

Tannery:  American Bistro + Bar
7 Purdy Street, Harrison, New York 10528
914-835-0009
www.tanneryny.com
Jul. 25, 2018:  The Tannery is housed in one of the older original bars in Westchester and has been known by many names for almost 90 years, most recently as the Harrison Tavern.
Six months ago, Ashley Lurie and his wife, Awilda Pimental, launched the Tannery American Bistro + Bar to bring serious and creative food to this area.
The famous bar is still there--at an impressive 55 feet, it is the longest in Westchester--but now the main event has become the menu, skillfully prepared by executive chef Anthony Rae Vines.  
We recently visited Tannery on a quiet Tuesday evening just after it had reopened after a few weeks of renovation, and we were the only diners there, which we are sure was a fluke because the food and service were excellent and the prognosis for the restaurant's success seems very good.
We decided to try a variety of starters. Cold cucumber soup with sea salt and sugarhouse cured hamachi loin was too salty, and the hamachi was not necessary. The potato and bacon croquettes with chipotle lime mayo were very tasty, as was the beet + burrata salad with arugula and pistachio pesto. A simple wedge with tomato, pickled onion, house bleu cheese, and bacon lardon was also very good.
The lamb sliders entree with tzatziki, pickled onion, watermelon + feta salad, and hand-cut fries was a winner. I suggest having the key lime pie for dessert.
Tannery crafts interesting and creative cocktails such as A Pocket Full of Rye, consisting of Sonoma County wheated rye, turmeric cordial, orange juice, and fresh mint for $13, and Twenty Blackbirds, with Suerte silver tequila, blackberry syrup, Thai basil, and fresh lime juice for $11. 
The very generous wines by the glass include a Tormaresca chardonnay from Puglia, Italy, for $11, and a Powers cabernet sauvignon from Columbia Valley, WA, for $13.
The menu is seasonal and it offers some specials of the week. On Tuesdays, the special is "Blake the Butcher Burger" with black pepper candied bacon, American cheese, new pickles, onion rings, and sweet shallot sriracha with fried plantains or hand-cut fries for $15 instead of $17; on Wednesdays, the wings are just 50 cents each; and on Thursdays, oysters are a dollar each. Fridays and most Saturdays feature live music, and there is a happy hour on Fridays from 6:00 to 9:00 pm.
All of the brunch starters and entrees are served with a complimentary house bloody mary or mimosa. A sixteen-ounce New York strip steak for $28 and ribeye for $38 each come with a choice of two sides.
There is also a large event space that can accommodate 150 people.
Pictured here:  Tannery: American Bistro + Bar.

Photo courtesy the restaurant