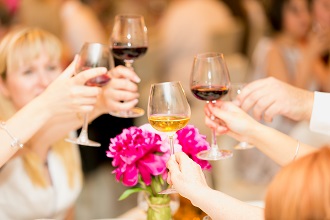 By Karen Talbot
July 17, 2018:  Summer is a great time to enjoy a delicious meal with your family and friends on the waterfront, on a lovely terrace, in town watching the world go by, at home or even on the beach with deliciously-prepared food.  Below are some great local restaurants that can make this happen!
Dolphin Restaurant, Bar and Lounge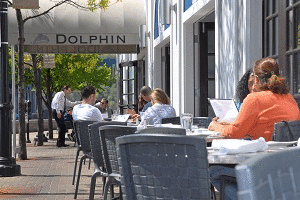 Dolphin Restaurant, Bar and Lounge has maximum waterfront dining on the Hudson River.   Their Summer Menu includes: Curry crab and corn chowder; Raw On Ice: Littleneck clams, East Coast oysters, Jumbo shrimp or Peruvian Seafood Ceviche Martini....all light and refreshing for this time of year.  For Starters: there are Crab Nachos and Salmon Tartare and from Entrees:  Beer Battered Fish & Chips, Surf & Turf or a specialty called The Sea.....consisting of Clams, PEI mussels, jumbo shrimp, lobster tails, potato, spinach.....all deliciously mixed in a tomato saffron broth.
They also have specialty drinks like the Dolphintini: cherry vodka, frozen blue curacao with cherry sweet mix or the Spicy Hudson: tequila, pineapple, jalapena infused syrup on the rocks.
Right next door is Café Hudson....their sister Bar with the same address that serves more casual food and is just a few steps from the river.  Here you can get many specialty drinks, beer or wine and order Chips with guacamole or salsa and a Hudson burger or the Grilled chicken sandwich.
Hours: 
Dolphin Hours are: Mon. - Thurs. 11:45am to 10pm; Fri. and Sat. 11:45am to 11pm and Sun. 11:45 to 9pm.
Cafe Hudson Hours are: Mon - Fri. 4:00 to 11pm and Sat. and Sun. 2:00 - 11:00pm

Underhills Crossing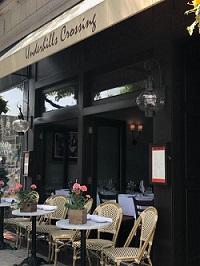 What would be "cooler" than Dining Al Fresco at Underhills Crossing!
You will experience an evening filled with music by our medley of world renowned pianists (Thursday, Friday, and Saturday evenings), our Culinary Chef's selection of seasonal farm fresh ingredients, an incredible raw bar and shellfish tower assortment and a variety of fine wines and beer!  The wine is selected to pair with our weekly Chef's Three Course Tasting Menu or any of our regular menu selections.  
We also offer an award-winning brunch served Saturday, Sunday and Holidays. 
Underhills is a great place to meet family or friends for a lite bite along with a libation from our specially created cocktail menu.  Chef's Grill selection is comprised of prime, dry-age steaks, hearty pasta dishes, (including gluten free) and a variety of beautifully prepared meat and fish dishes including "Market Catch". 
Underhills Crossing Restaurant is also happy to cater your special event in our house or yours.
Harvest on Hudson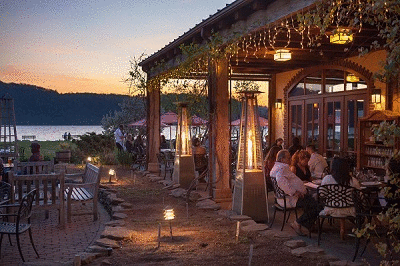 Harvest on Hudson is a gorgeous Italian villa offset by a flourishing garden and the spectacular views of the Hudson River!
You can dine al fresco for lunch, brunch or dinner along the Hudson or in the garden.  Harvest  prides itself on being garden to table, using the freshest ingredients from the Garden and also providing seating for guests amidst the vegetables and herbs. 
In summer you can find zucchini, eggplant, multiple varieties of tomatoes, peppers and Italian beans growing up the pergola and covered trellis.  Perhaps one of the highlights of taking advantage of this Tuscan oasis is the bright pink and purple skies that delicately frame the Palisade mountains at sunset. 
Looking for some solace? Guests can also hide out under fully blossomed plants during the afternoon hours for a quiet place to work with a glass of wine and some sfizi. 
Harvest is open for Sunday Brunch, Monday-Friday Lunch and Dinner 7 nights a week.
Click Here To See Their Menus
For reservations call 914.478.6700 or click here

Scalini Osteria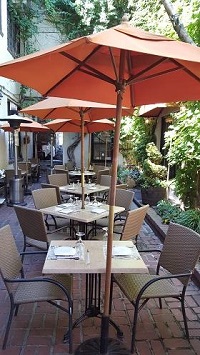 What a perfect spot to dine in a secluded and charming outdoor brick courtyard, filled with lush greenery, twinkling lights and Tuscan orange umbrellas on a beautiful summer night.  
Scalini Osteria has the most cozy landing where two people can have the most romantic dinner.   It's just like being in Tuscany and their mission is "to serve delicious, regionally-inspired Italian food that highlights both the simplicity and new age complexity of the country."
Their Cena Estate (Summer Dinner Menu) under Antipasti offers:  Roasted Watermelon with goat cheese, crispy speck and fig balsamic glaze or Sicilian style tuna crudo with garlic-herb drizzle, lemon and arugula....and ten other choices.  
Among their Pasta's are:  Agnollotti "cacio e pere" with bosc pear, mascarpone and candied walnuts and Spinach gnocchetti with speck, peas, gorgonzola and radicchio.  There are six more pasta's available to order.  
Secondi features:  Atlantic salmon, artichoke & spring onion quinoa, crispy leeks with pomegranate-avocado salsetta or Braised duck leg, fig and port reduction, roasted polenta and cipollini with seven more to choose from.  
For a refreshing dessert order Gelato or sorbetti di stagione (seasonal flavors) or Chocolate flan with fresh cream and raspberries. The personable owner, Angelo di Rosa creates the seasonal menu, drinks and dessert.
Special drinks for summer include:  a Prosecco Spritz, white wine Sangria and Raspberry Mojito's.  
Hours:  Scalini Osteria is open from 12 to 3 and 5-10 Mon. - Fri; Sat. 11:30 to 2:30 and 
5 to 10 and Sun. from 11:30 to 9.  Brunch is also served on Saturdays and Sundays. 

Eastchester Fish Gourmet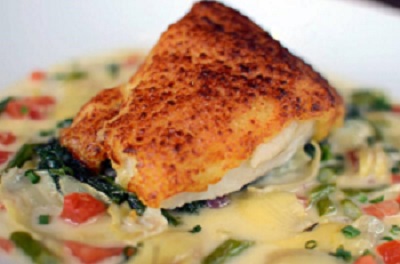 Rick Ross has been the owner of Eastchester Fish Gourmet Restaurant and Market for over thirty years.  They cater expertly prepared food to take out for cocktail parties, dinner parties or special events.  Catering To Go, from the award-winning restaurant, features popular food items including: their famous Shrimp Cocktail, Steamed lobsters, Parmesan Encrusted Cod, Crab Cakes, Shrimp Tacos and Fish Burritos.  Not all of the catered food items have to be seafood....try their Barbequed Chicken, Filet Mignon and Grilled Vegetables.  From a quiet dinner for two to a large gathering, Eastchester Fish Gourmet can create a special menu for your event.
The Eastchester Fish Gourmet Market, located a few doors down from the restaurant at 831 White Plains Road, carries many prepared foods from Gazpacho, Manhattan or New England Clam Chowder....Poached or Grilled Salmon, Seafood Risotto or Seafood Paella.  Other choices are: Shucked Clams or Oysters and both Farro and Quinoa grain salads.  A great lunch choice is the Kale, Quinoa and Grilled Shrimp salad with golden raisins and pistachios in a honey orange vinaigrette.  For $29.95/ per person, you can take out a one-and-a-half-pound steamed lobster that comes with baked potato and cole slaw...complete with butter, lemon and a bib.
All of the seafood purchased here is fresh, never frozen.... the shrimp comes from the West coast.... never from Asia.  At least 48 hours notice is requested for any catering, and their steamed lobsters are always available. 
Note:  This content is Sponsored by the participating restaurants
Top Photo:  Shutterstock