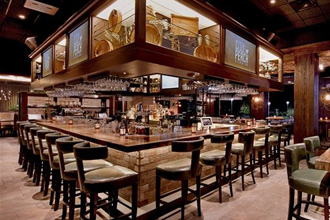 By Karen Talbot 

City Perch Kitchen + Bar
1 Hamilton Street 
Dobbs Ferry, New York
914-348-7003
www.cityperch.com

Jun. 13, 2018:  City Perch Kitchen + Bar gets its name from the first restaurant of the same name that opened up in Bethesda, MD, because it sits high above the buildings below. There are fifteen locations across the country, and this Dobbs Ferry location has been open since May a year ago. It is next to an iPic theater, which is part of the iPic Gold Class Entertainment, and it debuted with the movie Guardians of the Galaxy in 2017.
It has surprisingly good food for this type of venue and is the only restaurant that I know of that charges you for bread. They offer four kinds of gourmet bread:  cayenne + parmesan popovers, honey-dipped cornbread, CP butter buns, and orange sage biscuits. The cornbread was delicious with whipped goat cheese and wildflower honey. The breads are $5.00 each, or $12.00 for all four kinds in smaller portions. According to Melissa Linsao, the manager, Sherry Yard, a James Beard Award recipient and chef, is the "mastermind of the menu" and is assisted by Gregory Rivera, the sous chef.
There are six starters and five salads to choose from, such as brioche-crusted Maryland blue crab cakes and City Perch lobster cobb.
Our main selections "From the Sea" were gulf shrimp + grits, consisting of whole flavorful shrimp with roasted mushrooms, Anson Mills grits, and bacon vinaigrette, and pan-seared rockfish served with toasted farro, braised kale, and heirloom carrots in a red wine reduction. Both entrees were very good, but the accompanying carrots were not cooked and therefore inedible. 
"From the Land" came the Perch burger, with red onion marmalade, bacon, bibb lettuce, tomato, cheddar, and French fries. As burgers go, it was a good one.
This restaurant occupies a very large space with a bar and lounge that has high-top tables, couches, and lounge seating with a foosball and shuffleboard table. 
The main dining room has banquettes and tables and a large area of seating surrounding the open kitchen. A large curtain separates the dining room from a private dining area, which has a capacity for 40 people. Brick walls, a tile floor, and low lighting make for a nice dining atmosphere.
The service is relaxed, and I would suggest that if you are planning to go to a movie next door, you tell your server ahead of time. 
City Perch Kitchen + Bar is open every day from 5:00 to 10:00 pm, with happy hour in the bar and lounge from 3:00 to 6:00 pm. Brunch is served on Saturdays and Sundays from 10:30 am to 3:00 pm, and a DJ plays from 9:00 pm to midnight on Fridays and Saturdays.

Pictured here:  Main dining room of City Perch Kitchen + Bar.

Photo courtesy City Perch Kitchen + Bar