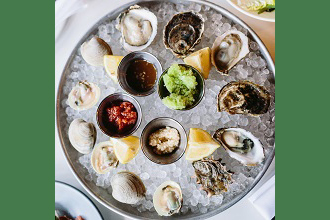 By Karen Talbot

Bread & Brine
19 Main Street
Hastings-on-Hudson, NY 10706
914-479-5243
www.breadandbrinehoh.com

Apr. 11, 2018:  Really good seafood in a casual and popular setting describes this 18-month-old restaurant, which bills itself as serving "traditional and unique 'Down-East' cuisine."
Both co-owners, Alex Sze (chef) and Jeremy McLellan, spent many summers and still do in Maine, which inspired this restaurant. Jeremy checks you in and works the main part of the restaurant, while Alex runs the kitchen in the back. This place hops and has a lively atmosphere, filled with a mostly younger crowd. I suggest making a reservation, especially during the evening prime time. 
"Consider the Oyster" is the first category on the menu and offers daily East and West Coast varieties of oyster; $1 oysters are offered all night on Wednesdays. From the "small plates" category, definitely get the New England clam chowder, which has an excellent broth and is chock full of clams, potatoes, celery, leeks, and salt cod and is topped with grilled cornbread. Wish they would offer the yummy cornbread to each diner. I am from Massachusetts, and I have had many bowls of clam chowder ... and can say that this is one of the best! The other small plate we had was grilled octopus with potatoes, chorizo, and Romesco sauce, another very good choice. 
From the "large plates" category, we tried the crispy fish sandwich of flounder served with fried lemons, shredded lettuce, B&B pickles, tartar sauce, and butter French fries. The fries were probably also the best that I have ever had, and it shows you what butter can do to flavor anything! I thought the serving portion of the fish was a little skimpy. Another winner as a main course was the linguine with white clam sauce, which had steamed cockles, wonton noodles, pancetta, garlic, and chili. To top off your meal with something from "sweets," I recommend the "key lime pie in a jar" with graham crackers and whipped cream. 
As I said before, the atmosphere is very casual; the floor and ceiling are wood, as are the tables and banquettes; there are plenty of places to sit at the popular bar. There are also four seats with open viewing of the prep station. The service is prompt and efficient and the prices reflect that you are paying for very fresh seafood that is flown in from Maine.  
They offer only one kind of wine by the glass in each category, such as Chardonnay, Pinot Grigio, etc., but I think they should expand their wine list to include some less expensive choices. They have an "Adult Swim" Happy Hour on Mondays, Wednesdays, Thursdays, and Sundays from 5:00 to 7:00 pm where you can enjoy $5 draft beers, $8 wine or Sangria, $6 bloody marys, $1 oysters, $10/dozen clams, $12 per half dozen shrimp cocktail, and $8 fish tacos.
Bread & Brine is open for dinner on Sundays and Mondays from 5:00 to 9:00 pm and Wednesday through Saturday from 5:00 to 10:00 pm.  
I look forward to going back and trying their supposedly wonderful lobster roll.
Photo courtesy the restaurant