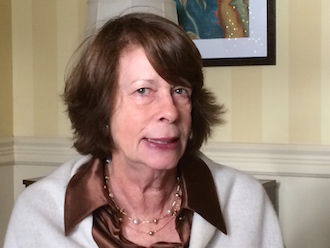 By Karen Talbot

Mar. 14, 2018:  The Olde Stone Mill is so named because of the historical significance of the structure, which dates back 200 years. It is on the banks of the Bronx River next to the Rivervue Condominiums, which makes for an impressive and idyllic setting.
The Olde Stone Mill is now named Florio's for its new general manager, Florio Rugova, who recently joined and brings a good pedigree of restaurant experience, including many years in Pelham at La Fontanella, and an ambition to raise standards of the restaurant on all levels. The owner is Louis DiNapoli, who also owns the highly popular Angelina's Restaurant right around the corner. The new chef, Christopher Stragisher, along with Florio, has created a varied and interesting menu with classic Italian choices along with dishes inspired by the chef. 
Florio is very personable and open to both food suggestions and ambiance ideas. For example, we asked that the overhead chandeliers in the main dining room be dimmed and that a votive candle be brought to our table ... this made all the difference in the world. 
For antipasti-appetizers, we ordered the grilled octopus with seared black olives, tomato, arugula, and lemon dressing and the eggplant stacker, consisting of crispy eggplant slices, tomato, fresh mozzarella, and basil, topped with sweet potato fondant and a balsamic glaze. The octopus was very flavorful and the eggplant appetizer was very interesting with the sweet potato, a very different taste sensation. It could have been served hotter than it was. 
We ordered a pasta for our main course, the cavatelli barese, which was a good choice. The pasta was cooked just right and flavored with crumbled sweet sausage, broccoli, garlic, cannellini beans, and olive oil. The most popular secondi-entrées are linguine frutti di mare with lobster, shrimp, calamari, and clams in a choice of marinara, white wine, or fra diavolo sauce; porterhouse pork chop with sausage, hot and sweet cherry peppers, and crispy potatoes in a spicy savory sauce; and branzino with Pernod, olive oil, and fresh herbs. There are daily specials under soup, appetizer, salad, pasta, and entrées, which are priced from $20 for eggplant lasagne to $48 for surf-and-turf.  
For dessert, try the seasonal fruit tart, the homemade cheesecake, or the strawberry zabaglione with one of their specialty coffees and homemade saltimbocca. 
Brunch here is popular because of the delightful setting and the quite extensive brunch menu, ranging from caramel apple French toast to a crab, shrimp, and avocado tower topped with a poached egg and mixed salad. 
Lunch is served Monday through Friday and brunch Saturday and Sunday from noon to 3:00 pm. Dinner on Saturday is from 5:00 to 11:00 pm and on Sunday from 3:00 to 9:00 pm. There is a sunset dinner with a special price of $19.95, which includes appetizer, main course, and dessert. This is offered Monday through Thursday from 3:00 to 5:30 pm. Coming up on Friday, March 23, they will have a five-piece jazz band, and every six weeks jazz will be offered.
Florio's Olde Stone Mill
2 Scarsdale Road
Tuckahoe, NY 10707
CLOAKING
914-771-7661
www.theoldestonemill.com

Pictured here:  Karen Talbot

Photo by A Warner