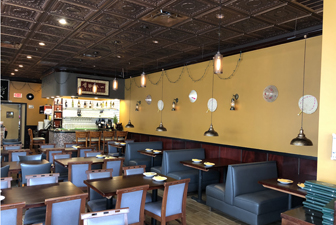 By Karen Talbot

Jan. 24, 2018:  I have been to Vietnam's Central in Scarsdale a few times now, and the food is always good. However, I would not recommend going there on a Saturday night, especially since they do not take reservations and it was jam-packed with a line of people waiting to be seated.  
The personable owner and chef, Tuong Bui (known as "Tom"), specializes in the cuisine of Central Vietnam, which is where he grew up.
Must-try appetizers:  Tom chanh, lemon shrimp lightly breaded and topped with lemon sauce and sesame seeds, and surn non nuong, marinated barbequed ribs with cucumber pickle daikon.
Definitely order the ginger rice, which is jasmine rice lightly stirred with garlic and loaded with ginger, a wonderful side dish to go with both appetizers and entrées. One order is enough for four people. 
Entrées we tried were kho tq (lightly caramelized pot), which is black pepper, fresh chili, onions, and scallions in a dark brown sauce with a choice of pork, catfish, or salmon, and rau cai xao thap cam, which is mixed vegetables of sautéed bok choy, mushrooms, broccoli, snow peas, carrots, tomatoes, onions, and scallions in a light brown sauce with a choice of shrimp or white meat chicken. Both of these Vietnamese dishes were exceptionally good.
Other entrees on the menu include grilled marinated pork chop, which I have heard is a winner and which the menu describes as pork chops marinated for three to five days, served with rice, cucumber, and tomatoes; an entrée of string beans, chili peppers, onions, and scallions sautéed in a sate sauce, topped with crushed peanuts and offered with a choice of chicken or calamari; and an entrée of string beans, chili peppers, onions, and scallions in a coconut milk curry sauce offered with a choice of chicken or shrimp. 
The food is consistently good, but there are a few shortcomings in other areas. They are very busy and could use more servers on a busy weekend night; a lot of our dishes were not cleared from the table when the caramel flan and dark and flavorful Vietnamese coffee were served. The selection of wines and beers is limited and not well stocked; they were out of Chardonnay and Sapporo beer the night we were there. I think Tom should allow people to bring their own wine.
Prices are reasonable, with the most expensive entrée being under $20.  In many cases, an entrée can be shared by two people.
Vietnam's Central
694 Central Park Avenue
Scarsdale, NY 10583
914-723-7222
https://www.vietnamscentral.com/
Pictured here: Vietnam's Central.
Photo courtesy the restaurant