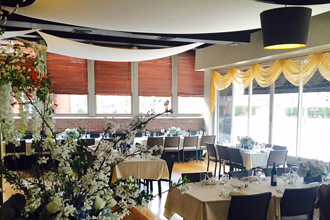 By Karen Talbot

Graziella's Italian Bistro
99 Church Street
White Plains, NY 10601
914-761-5721
http://www.graziellasrestaurant.com/

Nov. 15, 2017:  Graziella's is an excellent Italian bistro I would recommend the next time you are in White Plains, but you may want to bring your GPS, as finding 99 Church Street can be challenging. 
Graziella's is an attractive dining spot on a quiet downtown street with high ceilings, atmospheric lighting, a dramatic black-and-white ceiling, exposed brick walls, and ample seating. All of this creates a pleasant and inviting visual experience.  
The head chef is Graziella DiFeo, a tiny and charming lady now in her seventies who founded the restaurant 22 years ago and has been cooking there since opening day, including the last six years at the current location. Her daughter and hostess, Sandy DiFeo, says that cooking has kept her mother young at heart, and judging from creative dishes like pork osso buco, I would have to agree. I was lucky to have been there during Restaurant Week to take advantage of the prix fixe prices. 
Appetizers:  The clams casino, topped with bacon, roasted pepper, and Italian seasonings, were delicious and so was a fall salad of crisp apples, pears, goat cheese, grapes, and tomatoes in a raspberry vinaigrette.
Entrées:  The pork osso buco was a winner, a classic braised pork in a light brown sauce served with homemade pappardelle. Another winner was homemade fusilli in mom's bolognese sauce.
Desserts:  I highly recommend the crispy and tasty warm apple strudel with vanilla ice cream for dessert. 
Other menu items:  Graziella's also has an extensive menu of fifteen starters; hot and cold antipasto; flatbreads; seven salads; twenty entrées; and fourteen pastas.
Wines:  The wines by the glass were priced well.
Waiters:  The waiters were very professional and served the courses in a timely manner. Our loyal waiter, Edward, works on the weekends and has been with Graziella's for twelve years.
Amenities:  A private dining room downstairs for parties can accommodate up to 75 people, complete with a dance floor. Graziella's has valet parking, a nice feature especially in this neighborhood where street parking can be difficult.
Pictured here:  Graziella's Italian Bistro on the first floor.  

Photo courtesy Sandy Difeo, Graziella's daughter