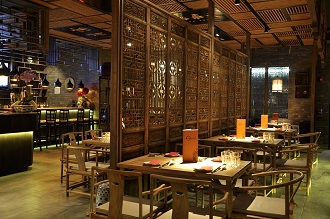 O Mandarin Restaurant
361 N. Central Avenue, Hartsdale
914-437-9168
By Karen Talbot
May 10, 2017:  The first authentic and upscale Chinese restaurant to come to our area in a long time, O Mandarin reflects the influence of the famous chef Peter Chang, whose protégé Eric Gao creates first-rate Mandarin classics, signature dishes, spicy food from Sichuan, and the house specialty, Peking duck. O Mandarin recently opened on Central Avenue in Hartsdale next to HMART, and the phone number listed above is only now being posted on its website.
This is one of the most handsome and thoughtfully designed Chinese restaurants that I have ever seen. The intricately carved wood panels create a visual separation from the bar without detracting from the ambiance of the entire space, and, along with visual effects and artwork, lend to the pleasingly subdued atmosphere. The walls and ceiling are adorned with objects of interest ranging from feng shui banners to original drawings and old cooking wares. Lighting is selectively and creatively used throughout. Elmwood tables and chairs are Ming Dynasty style, adjacent to a bank of semi-private, slightly elevated booths, where I usually prefer to dine. 
Let's get to the outstanding menu, which has not been published yet and is too vast to portray in this review, but here is what I have sampled so far.
For appetizers I would highly recommend the dim sum soup dumplings; Sichuan storm fish (lightly battered and fried very fresh fluke with spices, scallions, and peppers); and Sichuan wontons (sautéed in a spicy broth with peanuts). A more earthy and unusual appetizer was Sichuan peppercorn beef shank and tendon (with crushed peanuts, cilantro, and scallions). The Chinese love their vegetables, and a really good choice is the non-spicy baby bok choy and mushrooms, crisply prepared in a flavorful broth.
For main courses, definitely have the O Mandarin Peking duck, served with light crepes, matchstick scallions, cucumber, and Hoisin sauce. Layer all of those ingredients, including a piece of duck skin, onto the crepe, roll it up, and you will experience a food sensation "to die for." I also recommend Mandarin garlic pepper shrimp, served with leeks and red bell pepper--non-spicy and very tasty.
A friend of mine went there for lunch, and she and her friends recommend fish pickled mustard soup, the fish spring roll, chow mein with shrimp, and pork with bean curd, leeks, and rice.
The wait staff is efficient and professional, especially our waiter, Kenny, who kept checking on us to see how we liked each dish that came out of the kitchen.
O Mandarin is co-owned by Gen and Mary Lee and Peter Liu, whose vision was fulfilled by creating a "culture destination" restaurant with top-rate, highly creative food and a fabulous atmosphere. As far as pricing goes, the Mandarin classics main courses range from $16 to $24, and a half Peking duck (serves 2 to 4 people) is $34. I can't wait to go back!  
Pictured here:  Interior of the restaurant O Mandarin.
Photo courtesy Peter Liu, co-owner of O Mandarin