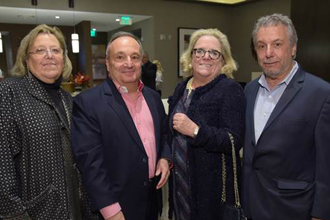 By Dean Bender, Thompson & Bender, for Villa BVX

Dec. 13, 2017:  Villa BXV, the condominium building in Bronxville Village across from Christ Church, recently hosted a reception for business and community leaders.
Among those attending the November 29 evening event were Bronxville's Mayor Mary Marvin and Villa BXV developer John Fareri.
The 53-home building on Kensington Road was developed by Fareri Associates and constructed by Gateway Development, a Fareri company.
The residences feature open-plan great rooms and kitchens with gourmet islands and high-end appliances. 
Eighty percent of the homes are sold. The base price for the remaining homes is $1,503,000.  

Pictured here (L to R):  Villa BXV director of sales and marketing, Elise Platt; Villa BXV developer John Fareri, president of Fareri Associates; Bronxville's Mayor Mary Marvin; and Neil DeLuca, president of The DeLuca Group.