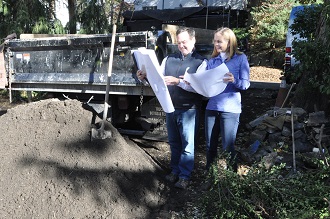 By John Knox and Mariellen Sullivan Carpenter, Carpenter-Knox Homes

Nov. 29, 2017:  It was 1970 in Mrs. Beasley's Bronxville Elementary School third-grade class where Mariellen Sullivan Carpenter met John Knox, and they have remained friends ever since. Over the years, they continued to cross paths, and their lives and families intersected before everybody found their way back to Bronxville, Mariellen working in marketing and John as a bond trader. Last year they combined all of their years of Bronxville knowledge and history together and forged a new business together, Carpenter-Knox Homes, located right here in the village.
Mariellen recently completed her master's degree in real estate from Georgetown to complement her real estate license. She worked in the competitive real estate market in New York City for several years before transitioning to the Bronxville Houlihan Lawrence office this spring.
John always had a passion for home renovation and had begun a new business as a consultant and homeowners' representative for major renovations. 
They had discussed their complementary skills many times and knew there was a business opportunity if they joined forces. They began their new venture by investigating foreclosed homes, and after months of research, extensive market evaluations, courthouse auctions, and property visits, they decided to purchase two homes in the Bronxville area that appeared to be good investments. 
Together, they found and interviewed their redevelopment team, which includes, among others, architects, engineers, plumbers, electricians, framers, and painters, oversaw the house renovations, and successfully listed both properties for sale in less than a year. Together, they researched all of the materials and found the best sources for all of their needs across the tristate area. The end result was great value without compromising quality. "While each project had its own set of challenges and required creativity, it was always rewarding to see it come together," said Knox. 
Both houses were sold in September to happy buyers, so the search continues for more properties. "We learned a great deal and have a tremendous amount of love and respect for each other still," said Carpenter.
Both agreed that real estate and renovation are complicated and it is important to work with someone whom you know and trust. The process of buying, renovating, and selling properties with their own funds enhances Mariellen's skills for her real estate clients and John's for his consulting business. Mrs. Beasley would be so proud of her two third-grade students! 
On to the next house.
Pictured here:  John Knox and Mariellen Sullivan Carpenter.
Photo by Ferdinand Martignetti