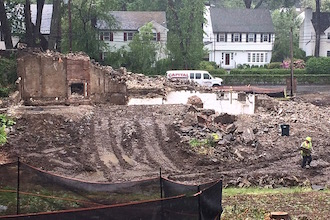 By Carol P. Bartold, Senior Reporter

Jun. 28, 2017: The demolition of the stone house at 150 Midland Avenue was fully permitted, according to Village Administrator Jim Palmer, even though many in the community were unaware of it, including some members of the planning board and zoning board of appeals.
The current owners of the property purchased the house in March of 2015. They submitted an application in October of 2016 to replace the structure. In May of 2017, the village building department issued a permit for demolition of the stone structure and the construction of a new two-story, single-family residence. Plans are on file and available for inspection at the building department in village hall.
Coincidently, at around the same time that the demolition occurred, the Bronxville Board of Trustees began the process of preparing a request for proposal ("RFP") for the development of a new comprehensive village plan. The trustees are formulating the RFP in conjunction with the village's planning board, zoning board of appeals, and design review committee.
Village Administrator Jim Palmer stated that, while the 2009 comprehensive village plan currently in effect contains language indicating that the village "may want to consider requiring site plan approval for significant excavations, earth moving, and retaining walls," he does not know if this provision applies to the demolition of single-family dwellings.
He indicated that village officials might want to consider a revised provision calling for zoning board of appeals approval for a replacement structure if more than a certain percentage of a house on an undersized lot is removed. "However," he said, "I don't believe this lot was undersized, as it has frontage on two streets [Midland Avenue and Sycamore Street]."
As the village code currently stands, applications for the development of single-family residential buildings under pertinent zoning regulations are exempt from planning board review. Therefore, the demolition of the house at 150 Midland Avenue did not require planning board, design review committee, or zoning board of appeals review. The construction plan approved for a new single-family structure on the site is fully compliant with RA-1 Zone (One Family Residence A District) regulations, Palmer noted.
Palmer suggested that a possible revision for the village to consider would be a requirement that an owner appear before the zoning board of appeals for approval to replace the structure if more than a certain percentage of a house on an undersized lot is removed.

Pictured here: Vacant lot on Midland Avenue just after the demolition occurred.

Photo by A. Warner