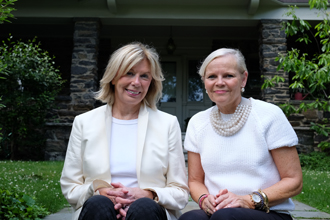 By Guest Contributor

Jun. 21, 2017:  As residents of Bronxville, we have all read about and heard the name William Bates, the architect who designed over 35 homes for William Van Duzer Lawrence, the original developer of Bronxville's Lawrence Park artist colony. This coming Saturday, June 24, we can all find out just what made Mr. Bates's architecture unique and so iconic.
After a light breakfast on the stone porch of 7 Valley Road starting at 9:30 am, local architect Anderson Kenny will lead a morning walking tour of Bronxville's historic Lawrence Park Hilltop to discuss the unique features of the homes designed by the esteemed William Augustus Bates between 1890 and 1910. Organized by Houlihan Lawrence agents Susan Law and Rita Steinkamp, the event will include a brief interior viewing of the first floor of their listing at 7 Valley Road. With its dramatic two-story entrance hall, octagonal paneled library, and magnificent dining room featuring a curved bank of stained-glass windows, an ornate, painted ceiling, and a minstrels' gallery, 7 Valley represents the height of Bates's golden age of design.
After the breakfast, the walking tour led by Kenny will meander up Valley Road to view the intricate exteriors of two other iconic Bates homes also currently on the market, 18 Gladwin Place and 6 Chestnut Avenue. Built in 1898, the year of Bronxville's incorporation, Gladwin represented a stunning departure from Bates's Adirondacks shingle-style homes in favor of a grand Southern colonial style, complete with graceful two-story Ionic columns that tower over a sweeping lawn all the way down to Paradise Road. Six Chestnut, the final tour stop, is a 1906 stone and shingle Arts and Crafts-style home with notable provenance. The former home of Elizabeth Custer, the widow of General Custer, 6 Chestnut is a 16-room home that served her well for entertaining numerous guests. It sits perched on a charming cobblestone road above the "valley of Bronxville" and features a stunning gambrel roof and stylized Palladian windows. 
Anderson Kenny, a member of the board of directors of The Bronxville Historical Conservancy, was instrumental in helping the Hilltop Association locate the replica bricks used to restore part of Park Avenue's yellow brick road two years ago. Kenny is currently working on some residential projects in the village, but his enthusiasm for Bates's turn-of-the-century work is compelling. "We all know that people pay a lot of money for Bates homes on the Hilltop … and there is a reason for that. His details are extraordinary and cannot be replicated today," according to Kenny.
Susan Law and Rita Steinkamp will assist on the tour. "We both feel it is so important to keep these amazing period homes relevant to today's buyers. And Bates's work brought such intense whimsy and creativity into the equation. He epitomized what is so special about our village. On Saturday, Anderson will help us understand the features which need to be preserved for ages to come," Law said.
The walk is free and open to the public. Park at Houlihan Lawrence's office lot at 4 Valley Road and walk up the hill to 7 Valley Road, where a light breakfast will be served on the porch at 9:30 am. The tour starts at about 9:45 am. For additional information, call Susan Law at 914-659-5856 or Rita Steinkamp at 914-646-5196. 

Pictured here:  Rita Steinkamp (L) and Susan Law of Houlihan Lawrence, organizers of the June walking tour.

Photo by Charlie Law