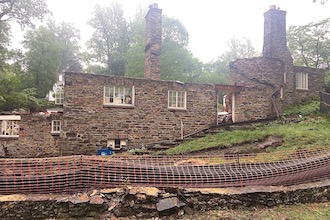 By Margaret Fuller Hayden

Jun. 7, 2017:  In a village of one square mile, it's hard not to notice certain changes in scenery. One of the more conspicuous in recent weeks has been the demolition of the house at 150 Midland Avenue and the large hole that currently takes its place.
Village Administrator Jim Palmer confirmed that the house was torn down the week of Monday, May 22. Village Engineer Vince Pici approved the demolition.
However, the lot will not stay empty for long.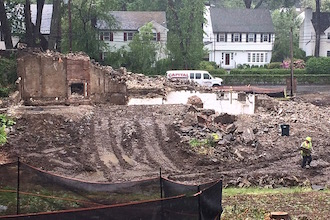 Since purchasing the house in March of 2015, the current owner submitted an application in October of 2016 to construct a new residence. Upon approval, a permit was issued in May of 2017 for two things, demolition of the house and construction of a new two-story single-family residence.
Palmer, characterizing it as a "voluminous application and review," said there were no required approvals by the zoning board, design review committee, or planning board.
The picture of the new residence under construction as it appears on the approved building plans and the picture the village has on file of the old residence indicate that the new house will not deviate from the former's style, and the primary composition of the house will remain stone. However, the construction will introduce several noteworthy amenities to the property, including indoor and outdoor pools and an elevator.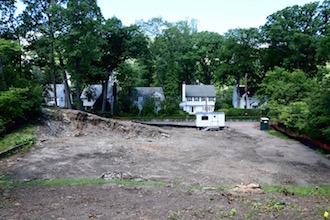 As indicated on the building permit application, the estimated cost of construction is $3,320,000, and the square footage of the new residence will be 5,870.

Pictured here: Progression of the demolition of the house at 150 Midland Avenue.

Photos by A. Warner and S. Thornton Clifford