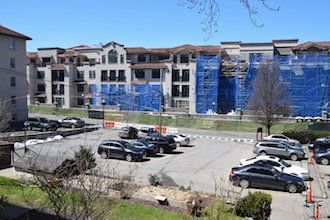 By Carol P. Bartold, Senior Reporter     

Apr. 5, 2017: VillaBXV, the residential condominium project on Kensington Road, at least ten years in the making, is proceeding steadily toward completion. Closing of the contracts of purchase of the first completed units so that people can move in is expected during late summer and early fall of 2017.
Elise Platt of VillaBXV Preview Sales estimates that between 65 and 70 percent of the available 54 units have been sold to date.
The project's north building is completely enclosed and roofed. Crews have begun to install interior drywall and decorative exterior ironwork. Some of the construction scaffolding on the outside of the north building is being removed.
Complete enclosure of the south building is proceeding.
Two four-story Mission-style condominium structures housing the project's one-, two-, and three-bedroom units sit atop a 309-space, two-level parking garage.
Condominium homes are designed with open floor plans and range in size from 1,300 square feet to over 2,000 square feet. Penthouse units will feature rooftop terraces, and garden units will have patios.
Amenities will include a front desk with a 24-hour concierge; a fitness center; a courtyard with a fireplace, a bar, couches, and a large-screen television; and a club room with a piano.
One hundred twenty parking spaces in the garage will be dedicated to VillaBXV residents. The remaining spaces will be available to merchants and the public.
The VillaBXV parcel on Kensington Road, left empty when Lawrence Park Heat, Light and Power and a gas station were removed, served as a village parking facility for many years.
To prepare the site for construction, the developer, Gateway Development Group, Inc., removed 20,000 cubic yards of soil contaminated by the operation of the power company and the gas station.
Gateway received approval from the New York State Department of Environmental Conservation to remove contaminated soil and rock from the construction site under the Brownfield Cleanup Program. The program provides tax incentives to make feasible the cleanup and redevelopment of highly compromised real property.
The developer removed an additional 10,000 cubic yards of uncontaminated soil, as well as 10,000 cubic yards of rock, to enable excavation for the parking garage.

Pictured here:  VillaBXV on Kensington Road under construction. 

Photo by A. Warner