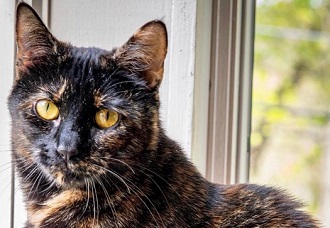 By Allison Roesser
May 13, 2020: Meet Stephanie. A beautiful five-year-old Tortie with piercing copper eyes and a majestic two-toned coat. 
Stephanie was surrendered to a local animal shelter after her owners lost their home. She loves to be kissed and pet and will knead her paws to show you that she is happy. 
Though she may be initially shy when first introduced, Stephanie comes out of her shell once she feels she can trust. As soon as she understands that she is safe, she will become your lap buddy and spend her days shadowing your movements.  
Stephanie would be happiest in a quiet home. She would prefer not to live with dogs, but can easily adapt to cohabitating with other friendly felines. 
Given a clean bill of health, this pretty lady is ready for immediate adoption. She has been spayed and fully vaccinated. For more information, please visit poshpetsrescue.org or email  CLOAKING