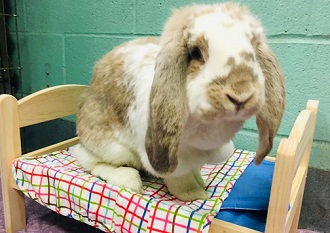 By Allison Roesser
Feb. 19, 2020:  "I'm large and in charge. Chunky, yet funky. Bold and beautiful. I am Latrice Royale." ~ Latrice Royale, from RuPaul's Drag Race.
Like her famous drag queen namesake, Latrice Royale is a stunning lady who knows what she wants and isn't afraid to tell you. This stunning girl may have all the confidence in the world, but she is also a complete sweetie pie who will happily stretch out beside you, doze off and purr.   
Latrice Royale is a French lop who weighs approximately 13 pounds. Although she is unusually large, Latrice doesn't require much more space than a typical rabbit. Her favorite activities are lounging, going through tunnels, modeling for photos, eating hay, and following her foster mom around the house.  
Latrice will thrive in a home that provides opportunities for her to be active and hang out with people who respect her space. Once she knows that she can trust you, Latrice will reward you with affection and hours of entertainment.
Due to her size, Latrice has developed a mild case of arthritis and is on a long-term course of medication to make her as comfortable as possible, but is otherwise as healthy as can be. She has been spayed, vetted, and is ready to find her forever home.  
If you would like more information about Latrice, please email Bunnies and Beyond at CLOAKING .