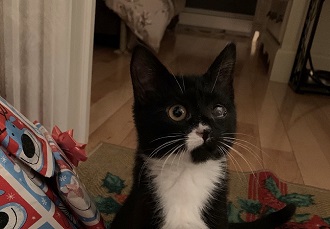 By Allison Roesser
Jan. 8, 2020: Black Storm is a sweet, spunky, and super affectionate kitten who has managed to survive when the odds were against her. 
When a litter of six kittens was found in one of our local neighborhoods, several of them were suffering from horrendous bacterial infections in their eyes. Sadly, not all of them survived, but this little girl weathered the "storm" and came out shining like a rainbow on the other side. She may have been left with a chronic eye affliction, but it does not stop her from enjoying life. 
Black Storm loves to play and purrs so loudly it will have you in a fit of giggles. She adores her blankie and spends a lot of time cuddling it. Often she can be found engaging in a game of hide and seek around the house, which ends with her pouncing on her seeker. 
Storm is wonderful with other animals, and all of them seem to enjoy her playful tussles and wily ways. She may have a lot of energy, but her foster mom said she is surprisingly gentle. 
Other than continued eye care, Storm is as healthy as can be. She is ready to start the new year in a home with a family that loves her. 
For more information, please visit www.NY-PetRescue.org.