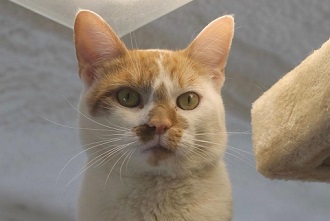 By Allison Roesser
Nov. 27, 2019:  Mono is a two-year-old, mild-mannered, playful, orange and white domestic short hair.
This big guy would make a great companion or addition to any family. He is currently living in the kitty cottage at Pet Rescue's Harrison location, and although he is doing great, it's clear that he is ready to begin his new life in a home full of warmth and love. 
Mano is completely litter box trained. He gets along with children and other kitties and would be just as happy living in a home with other felines as he would being your one and only. He does a stellar job entertaining himself and goes with the flow of each situation. He truly enjoys each day, and whatever life brings his way. 
Treats are his favorite, and it is a guarantee that he will come when he's called if there is a yummy reward waiting for him. 
Charming, gentle, and darn good looking, Mano is the perfect pet for someone looking for an easy to handle, furr-ball of love. 
Mano has been fully vetted, vaccinated, neutered, and microchipped. He is ready for immediate adoption and hoping to start the holidays off in his new home.
For more information, please visit www.NY-PetRescue.org