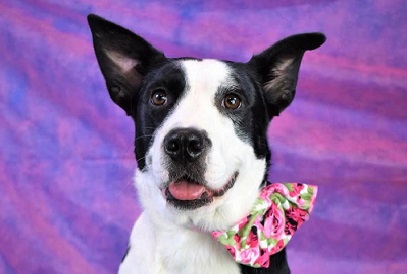 By Allison Roesser
Nov. 6, 2019:  Apple is about 3 to 4 year old, Cattle Dog/Golden Retriever mix who weighs 60 pounds.  
This sweet girl loves attention, but is never needy -- simply put, she is a very happy, grateful girl who enjoys love and affection. She is smart, trainable, and will make a terrific family pet and/or companion for another dog. 
Apple loves to be outside, basking in the sunshine on a nice day, and chasing the occasional butterfly. The couch is her favorite spot in the house, and she is willing to share it with whoever wants to join her. Her favorite time of the day is mealtime.
Apple is gentle with children and fully housebroken. She may be a little shy at first with new people, but she warms up quickly; they say the more reserved dogs bond the deepest, and Apple is the perfect example of that. 
Apple was found living on the streets of Arkansas with her 11 puppies. She was a great mom and managed to keep them all safe, happy, and fed. She even wagged her tail goodbye as each of them were adopted and found their way to a new home. Now it is Apples turn to have a happy ending. A kind and appreciative girl like Apple will make the best companion, so she patiently waits for someone to open their heart to her.   
Apple is a beautiful girl inside and out. She is healthy, spayed, and fully vetted. She was successfully treated for heartworm and is now ready for adoption. If you want to pick this yummy Apple, please visit www.pinkshelter.org for more information about the adoption process