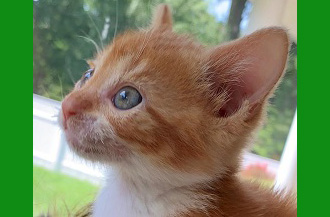 By Allison Roesser
Jul. 10, 2019: Baby Alic is a friendly eight-week-old kitten who loves and craves human attention. When he looks at you with those sweet and innocent teddy-bear eyes, you can't help but want to hug him.
He and his brothers were found when they were only a couple of weeks old. They were rescued before they were weaned from their mother, so they were bottle-fed from a young age and are extra-bonded to people because of it.
Alic is a snuggler who loves to climb onto people's shoulders and sit like a parrot. He is a smart and alert boy who is a bundle of spunk and personality. Alic is a pleasure to be around and will always keep you entertained with his joyful antics.
He enjoys playtime with his brothers, Nugget, who is also white and orange, and Chonk, who is a silver-and-white tabby.
Alic will make a great family pet and would flourish in a home with another kitten or young cat. He and his brothers just became available for adoption and cannot wait to find their forever homes.
All three kittens are healthy and have been fully vetted. If you are interested in meeting Alic or his brothers, please visit www.NYPetRescue.org.