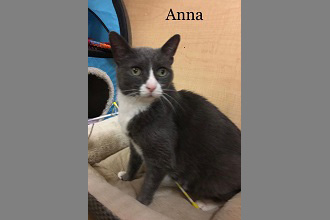 By Allison Roesser
Jun. 26, 2019: Soulful-eyed Anna is the ultimate lap cat. ...You can't ask much more of a kitty. She is sweet- natured, smart, and affectionate and has the smokiest eyes that emit fathoms of understanding and love.
Not only beautiful, but beautifully natured, Anna loves being carried, being kissed, and being groomed. She is basically a total love fest. This affectionate adult domestic short-hair will make a wonderful addition to a kind and caring home. She gets along with other cats, is gentle with children, and is litter-box trained (she has not been tested with dogs yet).
Adorable Anna resides at the PetSmart cat room in Yonkers and is from the Yonkers Humane Society. She is healthy, has been spayed, and is fully vaccinated.
If you are interested in learning more about her, you can contact Joan at 914-573-9989 or visit her at PetSmart.