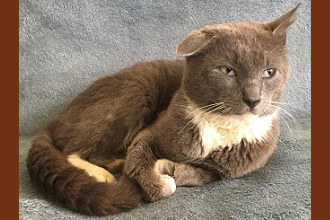 By Allison Roesser

May 15, 2019: Four-year-old Dewey was rescued from a housing project just off of Dewey Avenue in the Bronx. He was part of a cat colony that was being fed by volunteers. Over time, the volunteers get to know most of the cats in the colonies, and when they noticed he was losing weight, they decided it was time for him to leave the streets. 
Dewey turned out to be a real charmer. His calm and mellow disposition gives him an air of sophistication, and though he may look like a tough guy, he is surprisingly just a gentle teddy bear full of affection and congeniality. When he meows, it sounds as if he is saying the word "hi," and when he loves, he loves with everything he has.
Dewey gets along with the other cats and dogs in his foster home and is extremely gentle with children. This low-maintenance fellow wants only what we all do ... a place to call home with people who care. 
Dewey has been vetted and neutered. He tested positive for FeLV, so he needs to go to a home with another FELV (+) cat or be your one-and-only kitty. Otherwise, he is in perfect health. Dewey would make the perfect pet for a first-time cat owner. 
For more information about Dewey, please email Courtney at CLOAKING or text his foster mom, Tanya, at 912-200-0086.