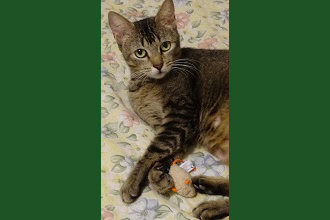 By Allison Roesser

Apr. 17, 2019: Ellie has not had an easy time in life. It was discovered that someone was using this outdoor kitty to breed, letting her inside to have her babies, selling the kittens, and then releasing her back out into the cold. 
This was done to her several times, but as soon as a local rescue group learned what was going on, they were able to find Ellie and bring her to safety.
When Ellie was picked up, she was pregnant again. She delivered five little kittens who have all found homes; now it is Ellie's chance to have a good life.
Ellie looks to be part Abyssinian. She is two-and-half years old and in perfect health. She is super playful and extremely sweet. She would do best in a home as your one-and-only considering everything she has been through. This lovely lady was treated so poorly in the short life she has lived, but she has many wonderful years ahead of her and just wants to be cared for and treated with love and respect.
For more information, please email  CLOAKING  or call her foster mom at 914-713-8649. The adoption donation for Ellie is $125, which helps to provide her with daily and medical care.