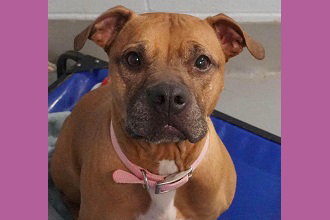 By Allison Roesser

Apr. 10, 2019:  My name is Eve and I have been waiting a really long time for you at the shelter. It's been super hard for someone like me who, more than anything, craves human interaction and affection. I have been so lonely and all I want is someone to belong to.   
Just a little bit about me: I am as sweet as sugar and my big brown eyes will get you every time. I am a professional hugger and will wrap my paws around you while laying big, fat kisses on your face. I am full of endless love for people and everyone seems amazed at how happy I become as soon as someone starts to play with me. 
I don't need much ... just some cuddling, walks, stuffed toys, and food. I am easygoing and ready to be your instant buddy. I would prefer a home where I can keep the snuggles and belly rubs all to myself since my happy place is with people. Sadly, I sit in my run all day just waiting for someone ... anyone to pay attention to me. 
I am four years old and about 45 lbs. and I have been spayed. I am definitely ready to get out of the shelter as soon as possible. Please come meet me today and let me steal your heart. 
For more information, please contact Leslie at the Yonkers Animal Shelter at  CLOAKING  or 201-981-3215. The shelter is at 1000 Ridge Hill Boulevard in Yonkers.