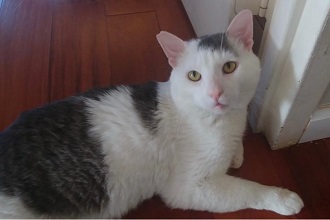 By Allison Roesser

Apr. 3, 2019: Socrates was living on the street for months. He managed to find his way to a colony of cats that were being fed and a volunteer noticed that he was limping his way toward the food. She picked him up, took him home, and immediately sought veterinary care. After he was examined by the vet, it was learned that Socrates must have had previous leg trauma but he is no longer has any injuries and is no longer suffering from any pain.  
No one predicted that this poor kitty would be overflowing with personality. Under the dirty facade, this three-year-old jowly cat was a complete surprise ... he is a real Prince Charming! This calm and gentle boy craves human attention and touch. His favorite thing to do is to sit on a warm lap and will gladly do so 24 hours a day. He will also sit on your desk (and keyboard) while you work. Perhaps he is making up for lost time, but he just wants to be close to people at all times. Once in a while, he has moments where he gets a little skittish, but after everything he went through, it is completely understandable. Every day he gets more confident and mainly he just loves being petted and doted on.
Socrates is great with other cats. He currently has five foster siblings and he gets along fabulously with all of them. He has been fully vetted and has been neutered, and he wants nothing more than to find a kind and caring home. 
If you are looking for love and have lots of love to give in return, then Socrates could be your ideal match.  For more information or if you would like to meet him, please contact his foster mom, Ellen, at 917-543-6092 or email  CLOAKING .