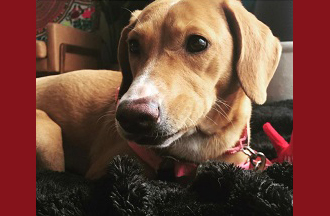 By Allison Roesser

Mar. 13, 1029: Hello, I'm Dorothy, a three-year-old, 30-pound lab-mix who traveled all the way from Texas hoping to find a family to love me.
I don't mean to brag, but I have a few things I am quite proud of. When it comes to manners, even Emily Post would be pleased. I am smart, very well-behaved, and definitely know my right from wrong. As for doing my business, I am aware of exactly what is expected of me. I pride myself on being neat and clean, I hardly shed at all, and my short hair barely requires any maintenance. Even after walks in the muddy woods, there doesn't seem to be any dirt on me ... that pretty much makes me a superhero.
Most important, I am polite to everyone I meet and consider each new face a lifelong friend. Whether you are a child, a grown-up, a cat, or another dog, all I want is to be your buddy.
Right now, I am living in a foster home and have become very well socialized. My foster family has three children, who have been very kind and like to play games with me. We especially enjoy romping and rolling in the NY snow ... didn't get much of that down in Texas.
One of my favorite things to do is to go for rides in the car. When I'm inside, I love to snuggle in my bed with my stuffed animals or sit on your lap if you don't mind the company. Just the other day, I overheard my foster family tell people that I am super chill and that I adapt well to new situations. That made me feel really proud.
The best part is that when people meet me, they always think I am still a puppy because, yes, I am that adorable.
I hope you will consider me a welcome addition to your home. I have tried really hard to be a good girl and will always do my best to make you feel happy and loved.
For more information about me, please visit Pet Rescue's website at www.NY-PetRescue.org.