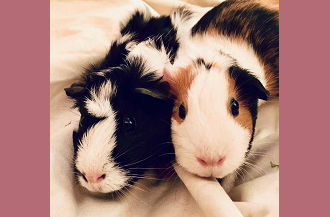 By Allison Roesser

Mar. 6, 2019: Did you know that it is illegal to own one guinea pig in Switzerland? The reason for this law is because guinea pigs need social interaction to be happy and owning a single one is considered harmful to its well-being.
Betty (Abyssinian) and Wanda (American) were rescued separately from a New York City shelter where they were both surrendered by their families.
Betty arrived first and it is impossible to know what her past was like, but it points to a sad and lonely one. Upon arrival, Betty was extremely nervous around humans, running away when people approached her and even screaming the first few times she was picked up. She was thin, her nails were overgrown, and she seemed overwhelmed by her new large enclosure and the sound of other guinea pigs. However, over time, Betty began to open up and accept attention from humans. She also became more comfortable being around other guinea pigs and began to make friends with the other piggies in the foster home.
Wanda arrived with two other girls, who were adopted separately. She was the more outgoing and curious of the group and quickly adjusted to her new routine. She made friends with humans, guinea pigs, and cats alike. In no time at all, she and Betty became BFFs. Now they are looking for a loving family to continue showing them just how wonderful life can be.
They are both playful, active, curious, affectionate, and gentle. They enjoy exploring their playpen during playtime, spending time with humans, and engaging with other guinea pigs. Wanda loves being held and petted on the head and will even fall asleep in your lap while being touched.
Betty and Wanda are approximately one-and-a-half years old and are ready for their new life to begin. They would prefer a home with older children who can be respectful of their small size.
If interested in adopting this duo, please email CLOAKING .