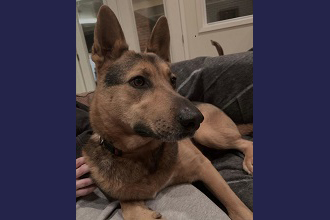 By Allison Roesser

Feb. 20, 2019: Meet gorgeous Zain. This amazingly handsome, big, mushy German shepherd can't wait to find a loving home. He arrived at the animal shelter undernourished and starving for both food and love, and from the moment he walked through the door, EVERYONE loved him!
When his time came up, the volunteers desperately wanted to ensure that he made it out of the shelter, and, fortunately, a foster home became available just in the nick of time. He has since been to the vet and was fully vaccinated, tested, microchipped, and neutered.
Zain is one year old and still growing. This loving puppy is so full of life and energy; he can't wait for the next exciting thing he can do. He is outgoing and eager to make friends with everybody. He gets along with all humans and dogs and is eager to please and give you every ounce of love he has.
This happy and social boy is beyond smart, housebroken, and crate-trained, and he will absolutely flourish with an owner who wants to invest time and love into his training. He enjoys learning, thrives when being taught commands, and would do best in an active home full of adventure.
His temperament is beyond compare. Zain is a gentleman, a cuddler, and a loyal companion. He has been described as a big bear with a great smile and a heart of gold. If you are a shepherd lover, you cannot do better than Zain.
For more information about this special fellow, please email Great Divide Animal Rescue at CLOAKING or visit its website at http://www.greatdivideanimalrescue.org and submit an application today.