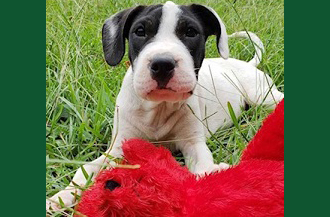 By Allison Roesser

Sep. 26, 2018: Mila is a precious border collie mix who is as sweet as she is adorable. She and her brothers Max and Murphy were born in the country and were left to fend for themselves until a good Samaritan picked them up and took them home. Their rescuer had good intentions but didn't want puppies in her house, so she left them in an outdoor pen for weeks. She then contacted a local rescue group and asked for help in finding them homes.
Mila is about four months old and sixteen pounds. She is the smallest of the litter but also the most spunky. According to her foster mom, Mila has a hilarious personality and is always doing goofy things to get people to pay attention to her. More than anything, she just enjoys being petted and adored. Her foster mom calls her "Princess Mila" because she follows people around everywhere they go and sits beautifully and properly until she is picked up.
Mila is housebroken, healthy, spayed, and up to date with her shots. She is ready for her own home, and although she adores other dogs and cats, she would also be fine as the only dog in the house, as she loves people more than anything else.
If you would like to meet Mila (or her brothers), please email CLOAKING , call 501-749-5129, or click here to fill out an application.