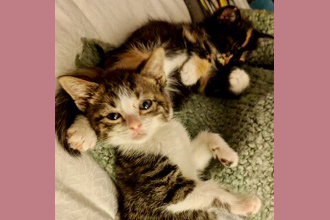 By Allison Roesser

May 23, 2018: Hazel, Percy, and Peanut are eight-week-old kittens who cannot help but capture your heart. Each one is cuter than the next, yet they could not be more different in personality.
There's one in every litter. One that's bolder, more curious, and has the most zest for life. That's Hazel, the tortie. From the moment you meet her, you cannot help but notice her spirit. She's the one playing while her littermates are asleep. She's the first one to burst out of the kitty enclosure and explore the rest of the house. Once she has explored, caused mischief, and checked everything out, she insists on snuggling and purring in the crook of your neck or with the closest dog she can find. Super friendly and affectionate, Hazel is one amazing kitten, not to mention her beautiful and unusual markings.
Percy, the white and brown tabby, may possibly be the perfect kitten. He's sugar and spice, loving and playful. When he's not playing with his sisters, he's happiest in your lap, stretched out and purring. He's confident and curious and truly enjoys every day. He loves cats, dogs, and humans equally as much.
Peanut, the gray and white tabby, is the sweetest kitten ever. She loves to relax on your lap purring loudly. Initially the smallest in the litter, Peanut has finally caught up to the size of her siblings. She's a gentle soul and prefers cuddling to rough-housing, but catch her in the right mood and she's very playful. Peanut is the favorite of the older kitties in the house because she's respectful and calm.
You cannot go wrong with any of these babies and one could only describe this litter as a trifecta. If you would like more information or would like to meet Hazel, Percy, or Peanut, please contact Pet Rescue at 914-835-4133 or visit http://ny-petrescue.org/. The adoption donation for each is $100.