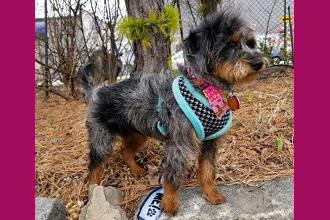 By Allison Roesser

Mar. 21, 2018:  Hi, my name is Lottie. I am a three-year-old, twelve-pound terrier/dachshund mix who loves everyone and everything--kids, dogs, cats...you name it, I love it.
I am super sweet and gentle. When I first meet you, I may be a little shy, but if you give us a moment to get acquainted, I will come to love you in no time at all. Oh, I should also mention that I know exactly where to do my business and, of course, I know it's not in the house.
I am happiest when I am around other dogs and often end up being the life and entertainment of the party. I think I would really enjoy being in a home with another dog. So if you are looking for a new bestie for your current pooch, I may be just the one for you.
Right now, I am in the care of Friends with Four Paws rescue group and am living in a foster home in Astoria. If you would like to meet me, please fill out this adoption application form. For more information about me, you can email CLOAKING . Make sure to put your phone number in the email so they can call you back quickly. 
The adoption donation for me is $475. This includes spay/neuter surgery, full (age appropriate) vaccinations, microchip insertion and registration, deworming, heartworm testing and prevention, and flea and tick prevention. 
All of the dogs rescued by this group come from local municipal shelters and the general public. Each dog is first placed in a foster home where it is kept for a minimum of two weeks for quarantine to ensure that, if it is sick, it can receive proper treatment (I am really healthy by the way). After the two-week quarantine period, we are spayed/neutered and fully vetted. Then we are placed on the website for adoption. I was just posted, so lucky you get first dibs on meeting me. Hope to see you soon!