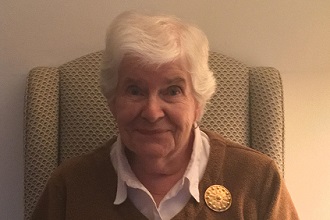 By the family
Aug. 7, 2019:  The family of Nancy Frederick Shuker Weyr is sad to announce that she died on July 31, 2019, at NYU Langone Medical Center of complications from heart surgery. She was an extraordinary woman with specific and dearly missed gifts: a great sense of humor, a strong moral compass, an enduring love of the arts, a generous spirit, and a mind of her own.
Born on July 26, 1934, in Cincinnati, Ohio, Nancy spent most of her childhood in Nashville, Tennessee, and graduated from the high school of Harpeth Hall. She then attended Northwestern University in the Medill School of Journalism and graduated with a bachelor of science degree in journalism in 1956. Shortly thereafter, Nancy married Greg Shuker, a noted documentary filmmaker, and they lived in Norfolk, Virginia, while he completed military service with the United States Navy. The first two of Nancy's three children were born there: John Frederick Shuker and Allison Gregory Shuker. Nancy, Greg, and their family moved to Bronxville in 1960, and their third child, Frances Swift Shuker, was born there. Nancy was a resident of Bronxville ever since, spending over 50 years of her life in a community she was deeply connected to and that she loved.
A pioneer in the legions of working women, she went to work at Time Life in the book division during the era when their book series were standard items in the homes of thousands of American families. She worked with Julia Child on the Cooks of the World series and was a top editor for the photography series. She ultimately became chief of research for the entire book division.
In 1968, Nancy left Time-Life briefly to run Senator Jacob Javits's reelection campaign, reflecting a lifelong interest in politics and a long-held dream to be part of political life. When Time Life moved its book division to Virginia, Nancy stayed in New York working in several publishing houses, at one point being named editor-in-chief for "Bottom Line: Personal," a business-oriented newsletter. Her final stint in publishing was spent at Reader's Digest Books, where she edited a huge variety and number of nonfiction books.  At the very end of her life, Nancy was tutoring teenagers at Mount Vernon High School, and their passions became hers.
In Bronxville, Nancy was active in the Little Forum, the Nondescript Club, and the Loft, where she served as president of the board. Nancy loved the arts, theater in particular, and was always looking for ways to enrich the lives of young people through exposure to that art form.
Nancy's marriage to Greg ended in 1982, and she was remarried in 1992 to Thomas Weyr, a celebrated author and journalist. She is survived by her sister, Anne; her brother, Paul; her husband, Tom; her children, John, Allison, and Franny; her five grandchildren, Luke and Grace Devlin, Faith Manary, Rose Shuker-Haines, and Swift Shuker; and two great-grandchildren.
Nancy's life will be celebrated at a memorial service at 11:00 am on August 17 at Christ Church Bronxville. A reception will follow at the church. All are welcome.