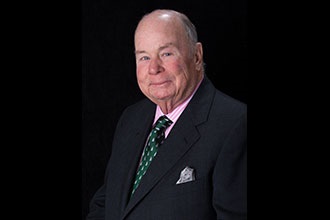 By the family
Jul. 3, 2019: George Lawrence of Vero Beach, Florida, peacefully passed away on Tuesday, June 18, 2019, at the age of 81. George was born on August 9, 1937, in Bronxville to the late Christopher and George-Ann Lawrence.  
As a boy, he grew up in Bronxville, New York City, and Long Island. He spent many happy times learning to fish and hunt at the Adirondack League Club. His heritage in the Northeast was esteemed. His maternal great-grandfather, George Hubbard Clapp, who lived in Pittsburgh, was instrumental in the development of the commercial uses of aluminum. His paternal great-grandfather, William Van Duzer Lawrence, led the development of Bronxville, turning it into the affluent community that it is today and established Sarah Lawrence College in honor of his late wife.
After graduating from St. Paul's School, he attended Columbia College. During his tenure at Columbia, he was a member of St. Anthony Hall. He left college in 1958 to enlist in the United States Army and served in Germany. His strong beliefs in the importance of a liberal arts education motivated his return to school. He graduated from Pace University in Westchester County, New York.
After his Army career, George returned to New York City and worked on Wall Street before joining the family business, Lawrence Properties in Bronxville, where he earned his position of president and chief executive officer. He was a former chairman of Sarah Lawrence College and in 1988 until his death, he served on the board of Urstadt Biddle Properties, Inc. The Lawrence family was instrumental in the development of Kensico Cemetery in Valhalla. George continued his family's legacy with Kensico Cemetery by serving as chairman of the board from 2007 to 2013. He also served on the board of governors of Lawrence Hospital from 1979 to 1992.
George had deep love and pride for his country and became involved with The Fund for American Studies, formerly the Charles Edison Memorial Youth Foundation in Washington, D.C. He served as its president from 1971 to 1974 and continued to serve as a trustee emeritus until his death. He supported the fund's guiding principles of limited government, free-market economics, and honorable leadership and believed strongly in educating young people with these same guiding principles.
George also served his country by working as an advance man on Richard Nixon's 1968 presidential campaign and on Jim Buckley's 1970 Senate campaign. He served several terms on the National Advisory Council to the Small Business Administration (SBA). After moving to Vero Beach, Florida, in 1989, he served his new community as a member of the City of Vero Beach Vision Committee and the planning and zoning commission for Indian River County. He was elected to serve on the Indian River County Hospital district board from 2001 to 2008 and was board chairman from 2002 to 2003. He was a dedicated supporter of the Indian River Memorial Hospital Foundation, now the Cleveland Clinic-Indian River Hospital Foundation. George also served on several advisory boards for senior resource association of Indian River County.
Hunting, fishing, golf, and travel were his lifelong hobbies. He was a member of sporting and golf clubs around the world. In Vero Beach, he was a member of the Riomar Country Club and the Quail Valley Club. In New York, he remained a member of the Links Club and the Saint Nicholas Society of the City of New York. He was also a member of the Ancient and Honorable Artillery Company of Massachusetts by right of descent.
While he believed deeply in honoring his heritage, he was a firm believer in supporting future generations to grow their legacy by mentoring and guiding them around his principles of hard work, devotion to God, family, and self, and sacrifice of self for family, community, and country. He was considered a mentor by many individuals and is remembered fondly for the guidance and shared experiences he imparted to them. His strong faith, integrity, honor, and valor made him admired, cherished, and loved by all who were fortunate to know him.
George is survived by his loving wife of 30 years, Pud (Margaret); his sons, Chris Lawrence, Bill Lawrence, and his wife, Kristen; his stepsons, Clif Dameron and his wife, Jesse, and Derrick Dameron and his wife, Sara; five grandchildren, Olivia Dameron, Ry Dameron, Grant Dameron, Anna Lawrence, and Suzy Lawrence; and many beloved cousins.
Services were held on Friday, June 28, 2019, at 10:30 in the morning at St. Mark's Anglican Church at 1795 45th Street, Vero Beach, Florida. In lieu of flowers, please send contributions to:
Senior Resource Association
694 14th Street
Vero Beach, FL 32960
The Cleveland Clinic-Indian River Foundation
1000 36th Street
Vero Beach, FL 32960
The Fund for American Studies
1706 New Hampshire Ave. NW
Washington, D.C. 20009