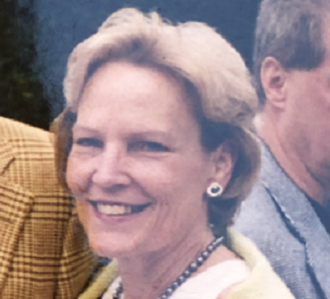 By the Family
Jun. 5, 2019:  Deborah "Debbie" L. DiMenna (Temme) of Sarasota, FL, passed away peacefully on May 24, 2019, at the age of 70.
She is the beloved wife of 48 years of "Chi Chi" Francis P. DiMenna, Jr. She is the dear mother of Francis P. DiMenna, III, and his wife, Adrienne, of Charlotte, NC, Christopher M. DiMenna and his wife, Deirdre, of Flower Mound, TX, Tyler J. DiMenna of Stamford, CT, and Jessica M. DiMenna of Washington, D.C.

Debbie also leaves behind four grandchildren whom she adored: Jack, Madison, Carson, and Katelyn. She was preceded in death by her brother Joel Temme and is survived by her sister, Susan Schultz, and her husband, Fred, of Ligonier, PA, and her brother Jon Temme and his wife, Kelly, of Calgary, Canada.

Debbie was born in Omaha, NE, to the late Reverend Norman Temme and Marian Temme. Her family moved to New York in the early '60s, where she graduated from Eastchester High School. She received a BS in psychology from New York University.

Debbie met Chi Chi while waitressing one summer during college at Wykagyl Country Club, where they were later married in 1970. They resided in Bronxville, where they raised their children. Debbie enjoyed playing tennis as a member of the Bronxville Field Club and she passed her love of tennis on to her three sons and by extension her grandson Jack. 

Debbie worked as an IT professional in the perfume and consumer goods industries for 25 years until she retired and moved to Sarasota in 2014. While there, she enjoyed her new home, reading, doing puzzles, and playing hostess to her visiting grandchildren.

Debbie had a quiet and kind soul and will be missed dearly by her family and friends.

A funeral service will be held on Friday, June 7, at 10:45 am at St. Joseph's Church, 15 Cedar Street, Bronxville, NY.

In lieu of flowers, gifts may be made in memory of Deborah L. DiMenna to the University of Florida Shands Hospital, Otolaryngology General Fund attn: Gift Processing and sent to PO Box 14425, Gainesville, FL 32604-2425.