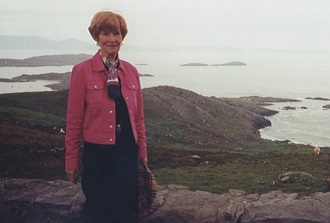 By the Family

Mar. 6, 2019:  Elizabeth (Fenton) Blumenauer, 93, of Bronxville, loving wife of the late Joseph A. Blumenauer, peacefully passed away on Tuesday evening, February 26, 2019.
Elizabeth, known as Betty, was born on June 6, 1925, and was raised in Hartford, daughter to the late Joseph F. and Elizabeth (Connor) Fenton, both from Ireland. She graduated from Hartford High and Miss Merchant's Secretarial School.
After graduation, she was employed at the investment firm Cooleys. She met her husband, Joseph Blumenauer, an attorney, in Spring Lake, New Jersey, and then they were married at Corpus Christi Church in Wethersfield, CT, in 1957.
They vacationed in Spring Lake every summer thereafter. She loved tennis and ice skating and was a longtime resident of Bronxville, where she raised her family and was a member of St. Joseph's church. Betty loved working in the village at The Reformed Church, where she was membership secretary for over fifteen years.
After retiring, Betty went back to work part-time at Bronxville Village Hall. Betty enjoyed traveling with her family to places from Hawaii to Bermuda to Paris and everywhere in between.
Most important, Betty loved people and people loved Betty. She will be deeply missed by her daughter, Mary Ramsey (Ron Ramsey), son, Joe, granddaughter, Victoria Ross-Blumenauer, and nephew, Joe Wall (Doreen).
Betty was predeceased by her older sister and best friend Mary Wall (Jim), who died in April of 2018 two days before her 96th birthday in Glastonbury, CT.