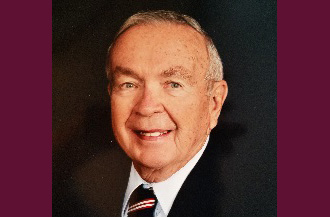 By the Family

Oct. 24, 2018:  Robert L. Johnson, 79, a resident of Nokomis, FL, and Pocahontas, PA, formerly a resident of Bronxville from 1939 to 1993, died on October 10, 2018, in Nokomis, FL. He battled prostate cancer with intelligence and courage for many years while living a full life.
Mr. Johnson is survived by his wife, Suzanne; his sons, Kendall of Rye and Robert of Sydney, Australia; three grandchildren, Schuyler, Bowen, and Sloane of Rye; his sister, Elizabeth Annin of La Crescenta, CA; and two brothers, James of Granite City, IL, and Richard of Alton, IL.
Mr. Johnson attended the Bronxville Elementary School before winning a scholarship to Hackley School in Tarrytown. He graduated with the Class of 1957 and then continued his education at Wesleyan University.  In recent years, he had been a director of the Hackley Alumni Association, and he was chairman emeritus of their 50+ Club. In 2012, he was honored with the Hackley Alumni Distinguished Service Award.
In his forty-year career, Johnson held senior executive positions in the fields of publishing, printing, and paper at companies including Time Incorporated, Macmillan, Abitibi-Price, and R.R. Donnelley. After working in New York and in Stamford, his career took him to Los Angeles and then to Chicago.
During his adult years in Bronxville, he was a member of the Bronxville Field Club, Siwanoy, and The Camp Fire Club in Chappaqua. He was an elder on great consistory of The Reformed Church, where he was baptized by Dr. Powell in 1939 and married by Dr. Enniss in 2001.
Mr. Johnson and his family lived for many years on Custer Place, and during his time as president of Lawrence Park Hilltop Association, he guided the process for this neighborhood to be listed in the National Register of Historic Places. He also launched the project of creating a book, eventually written by Bob Marshall, titled Lawrence Park, Bronxville's Turn-of-the-Century Art Colony.
Among his other civic activities, Johnson was a director of Lake Isle Country Club during its formative years, president of the Men's Republican Club of Bronxville, a candidate for councilman of the Eastchester Town Board, vice president of the Bronxville PTA, and chairman of United Way of BET.
Services will be at Venice Presbyterian Church in Venice, FL, on Friday, November 9, 2018, at 10:00 am, and in lieu of flowers, donations to The Reformed Church of Bronxville Music Program will be appreciated.