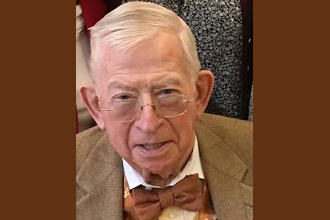 By the Family
Sep. 5, 2018: William Ashley Morrill, age 88, died on July 25, 2018, at his home in Pennswood Village, Newtown, PA, from complications of Parkinson's disease.
Born in Bronxville to now-deceased Katharine Anderson Morrill and Ashley Baker Morrill, MD (both offspring of Methodist bishops), Bill attended The Bronxville School (K-12). He graduated in 1952 from Wesleyan University, majoring in government, and got his master's in public administration in 1953 from the Maxwell School of Citizenship and Public Affairs, Syracuse University.
He is also predeceased by his brother, Richard Baker Morrill, and his former wife, Lois Birrell Morrill. He is survived by his wife, Nancy Porter Morrill, and four daughters: Margaret K. Morrill Gates of Madrid, NY (Cedric); Carolyn R. Cummins of Sabael, NY (Joseph); Elizabeth Darcie Corbin of Bloomington, MN (Roger); and Janet Robin Forsell of Clifton Park, NY (Jeffrey); seven grandchildren (Daniel Gates, Molly Baker (Justin), Kim Gates, Kate Cummins, Cody Cummins, Mindy Corbin, and Kurt Forsell); two great-grandchildren (Callie Cummins and Cash Baker); and his sister-in-law JoAnn Morrill of Minneapolis and her son and daughters and their children.
Services and interment will be held at a future date and time. In lieu of flowers, please consider making a financial contribution to The Wesleyan Fund, 318 High Street, Middletown, CT 06459; The Maxwell School, 44 University Place, Syracuse, NY 13210; National Academy of Public Administration, 1600 K Street, N.W., Suite 400, Washington, D.C. 20006; Planned Parenthood Keystone, PO Box 813, Trexlertown, PA 18087; The Fellowship Fund, Pennswood Village, 1382 Newtown-Langhorne Road, Newtown, PA 18940; or a progressive charity of your choice.